SXU to Host 175th Anniversary Gala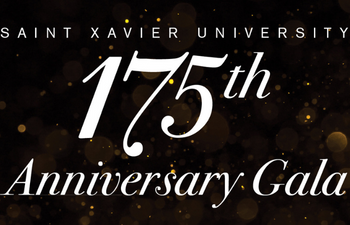 In celebration of the incredible milestone of its 175th anniversary, Saint Xavier University (SXU) will host a special 175th anniversary gala on Saturday, November 6, 2021.
As Chicago's first Catholic university and the first Mercy institution of higher learning in the world, Saint Xavier has shown marked resilience over the past 175 years, remaining focused on its mission of service to the underserved and grounded by the fundamental principles and values of the Sisters of Mercy who founded the institution in 1846.
Commemorating those founding values and the institution's many accomplishments over the years, the evening will begin with a celebratory mass at McDonough Chapel of the Mother of Mercy on the SXU campus at 5 p.m., followed by dinner, live music and dancing at Ridge Country Club, located at 10522 S. California Avenue in Chicago. The cocktail-attire event will take place from 6 to 10 p.m., with valet parking available.
Music will be provided by The Outcasts, a 17-member jazz band sporting 5 saxophones, 4 trombones, 4 trumpets, a full rhythm section and several vocalists, focusing on classic big band sounds.
The cost to attend the gala is $175. Funds will support student scholarships.
"I look forward to commemorating this significant milestone with our incredible alumni and friends who have helped sustain our mission for 175 years. We have so much to celebrate, from remaining the most affordable Catholic university in the state to our distinguished academic programs and student services that prepare our graduates for meaningful lives and successful careers. Saint Xavier is thriving as we steward our beloved institution toward an even more vibrant future," said President Laurie M. Joyner, Ph.D.
To register, visit the SXU website. For questions, contact Moira Curran, project manager for University Advancement, at 773-298-5710 or curranFREESXU.
---