SXU to Host 85 + 1: A Celebration of Excellence in Nursing Education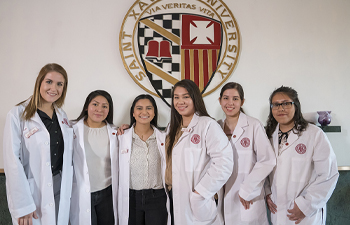 Saint Xavier University (SXU) will hold "85 + 1: A Celebration of Excellence in Nursing Education" on Sunday, September 19, an event to celebrate the transformative nursing education SXU has been offering for more than 85 years.
The nursing program at Saint Xavier began with a commitment from the Sisters of Mercy to serve the city of Chicago, which resulted in Mercy Hospital, Chicago's first hospital. Along with Mercy Hospital, SXU launched the first integrated baccalaureate nursing program in Illinois in 1935, complete with hospital-based laboratory courses and clinical practice hours to make up an intensive four-year collegiate nursing curriculum.
Over the past 85 years, the nursing program has grown tremendously. SXU's School of Nursing first received formal recognition as an entity within Saint Xavier College in 1966 and expanded to the School of Nursing and Health Sciences (SONHS) in 2018.
"What makes the School of Nursing and Health Sciences unique is the faculty and staff's commitment to our Mercy mission and core values and their work to make a difference in every student's life. As a result, our graduates enter the nursing profession well-prepared and with the core values so vital for anyone in a service position," said Gwendolyn George, DNP, APRN, FNP-BC, dean of SONHS.
Nursing education at SXU continues to evolve to improve patient outcomes and meet the increasingly complex changes of health care systems. The future of the nursing program is shifting to concept-based and competency-driven models designed to build a culture of health and eliminate disparities in health care access, with simulation now a critical component of the undergraduate curriculum. The focus will also shift from acute care to community-based care, addressing social determinants of health to develop and sustain communities.
"2020 was declared the year of the nurse and midwife by the World Health Organization, and with the COVID-19 pandemic emerging during that time, nursing was on the front line. We came together on Zoom for the 85th celebration, but I am delighted to be able to celebrate SXU's tradition of educating nurses in person at our special 85 + 1 event" said George. "Anniversary celebrations like this one are significant because we remember how far we have come, we are grateful for the present and we can imagine the new possibilities of the future."
The celebratory event will take place from 11:30 a.m. to 4 p.m. in McDonough Chapel, beginning with a liturgy at 11:30 a.m. with a luncheon to immediately follow in the Butler Reception Room, which includes beer, wine and heavy appetizers. The cost to attend is $85. Please register. For more information, contact Jeanmarie Gainer, director of Alumni Relations, at 773-298-3316 or gainer@sxu.edu.
SXU's SONHS has been named a Center of Excellence by the National League for Nursing for four consecutive terms and its online nursing graduate program has been ranked within the top five online graduate nursing programs by U.S. News & World Report for eight consecutive years. To learn more about SXU's School of Nursing and Health Sciences, please visit SXU's website, or contact 773-298-3701.
---