SXU Welcomes AJR to Campus for Cougarpalooza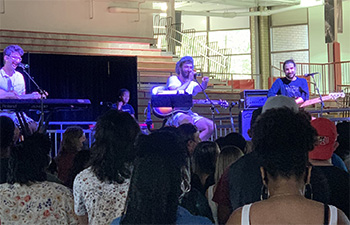 As the community returned to the Saint Xavier University (SXU) campus for the fall 2021 semester, students, faculty and staff were treated to a special surprise – SXU's Cougarpalooza, headlined by AJR!
AJR, an indie pop trio comprised of brothers Adam, Jack and Ryan Met, combines elements of pop, electronic and alternative rock to create a pop-fusion sound that has landed them several chart-topping hits, including one in the top 10 of the Billboard Hot 100.
The concert, presented by WKQX, was made possible by a partnership SXU has with Cumulus Media. SXU has been a longtime supporter of their Piqniq concert, which was canceled this year, giving SXU students the amazing opportunity to have AJR come to campus for the concert.
SXU's community of doers masked up for the small and intimate performance in the Shannon Center, where they got to spin a wheel for fun prizes from SXU and WKQX.
"It feels amazing to be having events together again. It's in our lifeblood to share music with everyone. AJR is currently prepping for a tour, and shows like these help them focus on what will work best for the tour," said Perie Sumner, marketing and analytics consultant for Cumulus Media.
"This is such a beautiful campus. When we heard we were going to have such a unique venue – especially for a band that is used to playing amphitheaters and arenas—we knew the show was going to be really cool," added Jeanine Moose, director of marketing, sponsorships and promotions for Cumulus Media.
The intimate concert environment allowed for conversation between the band and the crowd, and AJR surprised everyone by bringing student Laila Summers onstage to join them for a song. Summers sang "Someone Like You" by Adele. The audience was thrilled with Summers's performance.
"I love performing and being onstage, and it was so special to sing in front of my friends. It is an experience that I will always remember," said Summers.
The exciting concert was a fabulous kickoff to what is sure to be an incredible fall semester for students.
Students can listen to WKQX via radio at FM 101.1 or streaming through desktop, smart phone and smart speaker.
---