Three-Time SXU Alum Leads Young Students in Chicago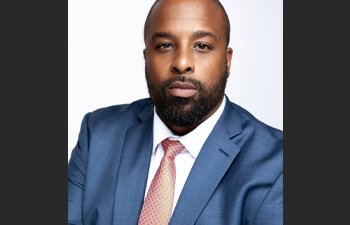 Saint Xavier University (SXU) alum Othiniel Mahone '03, '05, '13 is a three-time SXU alum and is using the knowledge and experience he's gained at SXU to lead students as an assistant principal at Urban Prep Academies for Young Men in Chicago.
Mahone began his undergraduate studies at SXU in elementary education. Two days after graduation, he began working as an admission counselor at SXU until 2005, during which time he earned his master's degree in multi-categorical special education. After earning his master's degree, he worked at various schools before beginning his work at Urban Prep Academies, which is a nonprofit organization that operates a network of all-boys public schools, unique because of their positive school culture and rigorous college prep curriculum and the only all-boys public schools in the state of Illinois.
From 2006 to 2016, he served as a teacher and case manager before moving into the role of assistant principal. During that time, he earned another master's degree in educational leadership and administration at SXU. In 2018, he joined Chicago Public Schools as assistant principal at Marshall Metropolitan High School, where he and his team were responsible for improving the culture and the climate of the school, which resulted in an 82% decrease in out-of-school suspensions by using a restorative approach. They also improved attendance. In 2019, he served as principal at West Side High School in his hometown of Gary, Indiana, where he improved graduation rates by 6%. He returned to Urban Prep Academies as assistant principal in 2021.
In his daily role, his responsibilities are centered around building the capacity of teachers through constant observations and evaluations, coaching teachers to ensure their daily lessons are aligned to SAT standards, ensuring activities provide the rigor necessary to push students to their highest potential, and meeting the needs of diverse learners. His goal is to ensure 100% of students are enrolled in a 4-year college or university.
During Mahone's first year at SXU, he was a business major, but in the summer following, he worked with students and saw the role he could play in transforming the lives of others, so when he returned to school, he changed his major to education. He found that it was the best decision he's made.
"SXU has the best education program in Illinois. Many of my experiences while at SXU allowed me to have interactions with schools well before I had to student teach. I had the opportunity to do various observations at local schools that provided me insight on the grade level I wanted to teach. In my time there, I was assigned small groups and worked one-on-one with students where I taught class as well as reading programs with different students," said Mahone.
While at SXU, Mahone was captain of the football team for three years, a resident assistant for two years, and was also involved with the Black Student Union.
"Many of my favorite memories were centered around playing football. It was the time of my life being part of a team that laid the foundation for the future success of the program. Being a member of the first team to win the conference championship and play from advancing out the first round of playoffs are memories I will never forget, along with the relationships I developed, Saturday pregame at the grotto, and spending times with lifelong friends in Regina Hall," said Mahone.
Mahone also found joy working with his faculty and peers.
"Dr. Meg Carroll's passion for teaching was evident every day. She pushed us constantly to be the best educators for our future students. I also really enjoyed the opportunity of being at a campus that allowed me to build relationships with so many people. Everyone in Student Services knew me as O.T. I am not sure if anyone even knew my real name!" said Mahone.
In the future, Mahone plans to move back into a principal role. He also anticipates pursuing his superintendent license and eventually teaching at the college level.
---