ABC7 News Journalists Present to SXU Communication Students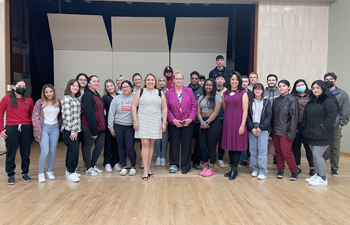 At the end of the spring semester, communication students welcomed two Latina news anchors, Stacey Baca and Cristina Zambrano, from ABC7 Eyewitness News. Brought to campus by communication professor Marjorie Owens-Klotz, the news anchors spoke to students about their careers and the importance of communication and gave students valuable real-world advice.
Stacey Baca, a key storyteller on ABC7, shares and reports major stories at the anchor desk or live on the scene. She's a seasoned journalist who covers a wide variety of stories, including breaking news, crime, education, politics, health and feature stories. Throughout her career, she's received numerous awards and recognition from the Associated Press and the National Academy of Television Arts & Sciences (NATAS). She's a member of NATAS and the National Association of Hispanic Journalists (NAHJ).
Cristina Zambrano is a three-time Emmy Award winner and field producer for ABC7 News in Chicago, where she's worked for over 20 years. She is a member of NAHJ and NATAS. In her role as field producer, she experiences breaking news firsthand every day and interviews eyewitnesses, celebrities, medical experts, and law enforcement and government officials. She loves meeting extraordinary people doing amazing things in their communities and sharing their stories to educate and inspire others.
"The students enjoyed hearing firsthand accounts of what it's like to work in news production. Stacey Baca talked about how being able to communicate well is essential for every possible scenario. Cristina Zambrano talked about how she put stories together in the field, inviting people to be interviewed on camera. She also stressed how being bilingual and speaking Spanish has been an important part of her success," said Owens-Klotz.
Each semester, Owens-Klotz brings in speakers with different backgrounds to share their insights on how important being able to communicate well applies to all careers. Her guest lecturers focus on the importance of speaking well in job interviews, making presentations, sales and other careers. They've also delved into crisis communication and how to work with the media. Her guests have included sales managers, police chiefs, elected officials, marketing directors and company presidents. Owens-Klotz looks for well-spoken individuals who enjoy a good rapport with students, and she always asks them to include what they wish they knew when they were younger. She knows these experiences benefit students well.
"I smile when I tell my students that mine is the most important class they will ever take. They usually chuckle and look at me confused. I then tell them that public speaking is a life skill that they will use forever, in every imaginable way," said Owenz-Klotz.
Owens-Klotz first begin teaching public speaking at SXU in 1998, though she stopped teaching to have her son, Tim Klotz, who is now a senior business management major at SXU. In 2019, after taking an early retirement from the Village of Orland Park, where she oversaw the community's marketing and public relations for 37 years, she began teaching at Saint Xavier again after 20 years thanks to encouragement from SXU communication professor Cyndi Grobmeier. Once Owens-Klotz's intern, Grobmeier is now a leader at Saint Xavier.
Owen-Klotz learns as much as she can about her students and incorporates their future careers into her lectures, working to create an environment where everyone knows each other and they're all comfortable.
"A creative teaching style is required for public speaking. It's one of the biggest fears in life! This is why I do all that I can to make my students as comfortable as possible, declaring my classroom an anxiety-free zone. I don't turn on the classroom lights and I play music as the students come in. Early on, they're treated to 'We're All in This Together' from 'High School Musical.' I play the music video and explain that everyone is in the same boat and that we will do all we can to make each other as comfortable as possible when one of our peers is presenting," said Owens-Klotz.
Owens-Klotz was pleased with how well the presentation from the guest speakers went and was thrilled with how students responded – with gratitude, insight and heart.
---