Honoring Core Values in the New Year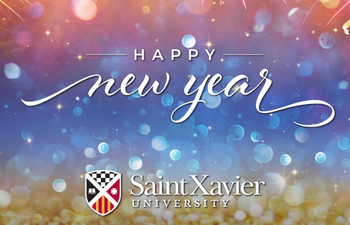 As Saint Xavier University (SXU) prepares for the new year, many faculty, staff and students are considering how to more deeply integrate the SXU Mercy mission and core values into their New Year's resolutions. With a myriad of service and leadership opportunities, variety of ways to get involved on campus, and a supportive community, achieving these resolutions will be a breeze!
Respect: Respect moves us to understand the gifts and unique contributions of every person in the University community. Students can participate in events such as the Synergy Student Leadership Summit, which helps students to become more diverse, inclusive and innovative leaders who guide others with respect and integrity. The community can also participate in SXU's Safe Zone training, where they will discuss how to respect and value LGBTQIA+ persons and their experiences. They can participate in other events throughout the year like "Signs of Respect," where students make signs to hang around the Warde Academic Center to remind the community of how to respect cultures and people in general.
Excellence: Excellence commits us to challenge ourselves to utilize our God-given gifts – intellectual, social, physical, spiritual and ethical. Students can be part of organizations and societies at SXU that exemplify excellence, such as the Emerging Scholars Program or the Tri Beta International Biology Honor Society. Students can also spend time visiting the Learning Center and Center for SUCCESS and accessing other resources to ensure success and excellence in the classroom and among peers. At Saint Xavier, staff are committed to inspiring success by working together to provide meaningful, personalized service in a spirit of excellence, and they can spend the new year working to ensure collaborative, effective service with each interaction.
Compassion: Compassion compels us to stand with and embrace others in their suffering so that together, we may experience God's liberating and healing presence. Students can be part of the Mercy Volunteer Corps, an organization that promotes social change by placing volunteers to practice compassion and spirituality for a year of service with people who are marginalized. The community is also welcome to weekly virtual prayers, where faculty, staff and students gather to pray for and uplift one another, especially in times of great need.
Service: Service calls us to use our gifts, talents and abilities to advance the genuine well-being of our community and those we encounter. Students can join one of many RSOs dedicated to service such as the Service Club or Pals for Change. The community is also invited to participate in a number of service projects throughout the year, including the Week of Service in March, Day of Service in August for first-year students, service trips and more. Departments across campus can choose to host and invite others to participate in service projects of their choice all year long.
Hospitality: Hospitality draws us to do our daily work with a spirit of graciousness that welcomes new ideas and people of all backgrounds. Students can extend hospitality to one another by joining a leadership group such as Cougar Peer Mentors or by ministering to others as a peer minister. They can also warmly welcome prospective students as student ambassadors. Faculty and staff can extend that same hospitality to parents, visiting lecturers and accrediting agents, donors and friends -- all who visit the Saint Xavier campus.
Integrity: Integrity permits us to realize the greater good in our actions and programs and challenges us to look at our work and ourselves as one united with others. Organizations like SXU's Green Movement and Students for H.O.P.E. are all about making real change in our communities to create a better future for all, and the entire community can participate in events that are often both learning and service opportunities that ultimately strengthen and promote lifelong integrity.
Diversity: Diversity builds a community that fosters a climate open and welcoming to diverse people, ideas and perspectives. Students can embrace and nourish diversity at SXU by joining a cultural organization like Black Student Union or Sin Limites. The community can attend events held by the Office of Inclusive Excellence and participate in the many events hosted to celebrate different cultures during Black History Month, Hispanic Heritage Month and more, as well as celebrations for Pride Month and Disability Pride Month, all while keeping in mind that in our celebration of our unique differences, we're better together.
Learning for Life: Learning for Life encourages us to pursue knowledge and truth in ways that improve our communities and ourselves. There are a variety of academic and professional registered student organizations (RSOs) to join on campus, from the Accounting Student Organization to EXPLORE STEM. Many of our faculty take on new and exciting projects during sabbaticals and frequently publish and participate in conferences. Prospective students and alumni can shadow a class at SXU, and those who are retired can be part of the Renaissance Academy, SXU's collegial association of retired and semi-retired persons who share learning experiences and intellectual growth!
Though these are just a few opportunities for special resolutions that align with SXU's core values, there are many more to explore! SXU is proud of how its faculty, staff and students embrace and live the University's core values and mission daily. Our community consistently strives for excellence to make the world better for others, and we can't wait to see what is achieved in the new year!
---