Local Motorcycle Association Supports SXU Student Veterans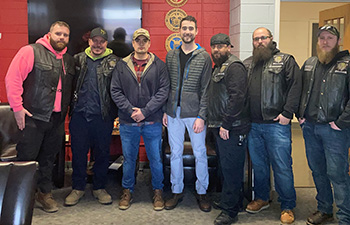 A community veteran and his motorcycle club are working together to support student veterans in need at Saint Xavier University (SXU).
Conor McHale, a former SXU student and former vice president of the Student Veterans Alliance (SVA) at SXU, is a member of Nameless Few Motorcycle Association of Alsip, a club whose members combine their love of motorcycles with community outreach. Their mission is to enjoy like-minded camaraderie and support various charitable organizations that provide aid, welfare and relief to first responders, military personnel and children. They regularly work with Sleep in Heavenly Peace, a bed-building organization that provides beds to sleep in for underprivileged youth, and also help to promote collection drives for organizations such as Autism Speaks and Cures for Cancer.
The idea to donate to Saint Xavier veteran students in need sparked from the daughter of a Nameless Few member, who was doing a project at school on veterans and wanted to know how she could help veterans. McHale recalled the need for veteran support at SXU and also wanted to contribute to members of the community. The club decided to hold a fundraiser and raised $1,000 to support SXU student veterans.
Graphic design student Patrick Kerrigan and psychology major Jose Soto each received checks for $500.
"The veteran community at SXU is great to be a part of. I would love to some day return the generosity Conor has given us. After completing school, I hope to open my own outwear clothing business and raise awareness for mental health, fitness and veteran assistance," said Kerrigan.
"As a veteran student, receiving these funds helps tremendously with offsetting costs associated with attending school. I've found many helpful resources as a veteran student at SXU. SXU works to take care of its veteran community and it's reassuring. SXU is a place where we all work as a team – one team, one fight!" added Soto.
McHale has fond memories as former president of SVA and enjoyed coordinating events to raise money for the Veterans Memorial erected on campus last year. He is thrilled to be able to continue to show students support.
"Conor's work, especially as a former student, reaffirms the core value of service at SXU. Veterans have an unspoken bond with one another, and being able to watch the Nameless Few interact with our student veterans and speak on common experiences and future opportunities to give back was very exciting," said Gricelda Gonzalez, veterans compliance advisor.
---