Returning Adult Veteran Student Finds Success at SXU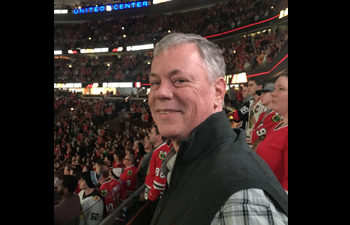 Saint Xavier University (SXU) veteran student Edward McClory, a non-traditional student, has found success at SXU thanks to the excellent support he's received from staff and faculty. Despite being an older student who has suffered several health issues in recent years, McClory is always determined to rise to the challenge. With a 4.0 GPA, positive attitude and giving nature, McClory inspires other veteran students.
McClory is majoring in liberal studies with a concentration in sociology. Since McClory is a returning adult student and retired, he wanted a broad range of subjects.
He attained corporal rank after three years in the United States Marine Corp. Sergeant rank was offered for reenlistment. While in the military, he earned his GED. He is grateful for spaces on campus like the veterans lounge, where he enjoys studying, and the support he has received from SXU staff.
"The staff at SXU has been very supportive, especially Gricelda Gonzalez [veterans compliance advisor], who's helped me every step of the way. It is vital to have support for those transitioning from military personnel to civilian, especially in campus life. Although cognizant of my age, I did not feel out of place as an older student. I once had a classmate post in an online discussion thanking me for my service, and I was appreciative of this," said McClory.
McClory chose SXU because of his interest in the Mercy mission and Catholic heritage and philosophy. He has many family and friends who are alumni and he lives just three blocks from campus. He's also a fan of SXU's core values, particularly learning for life.
"Learning is of the utmost importance to me and will be for life. In addition to course material, I have also learned about commitment, preparedness, time management and meeting deadlines," said McClory.
McClory has persevered through much in the last few years, including throat cancer and liver cancer, followed by a liver transplant. He is now doing well and is grateful for his faith, which is enhanced by his time at SXU, and his wife, Beth.
"Two things got me through this – my faith and my wife. I can't say enough about attending SXU and benefiting from a faith-based education," said McClory.
Despite being an older student, McClory has lots more to accomplish. After graduating, he plans to spend time volunteering and possibly return to Saint Xavier for graduate studies.
---