SXU Alum Begins Work With Sisters of Providence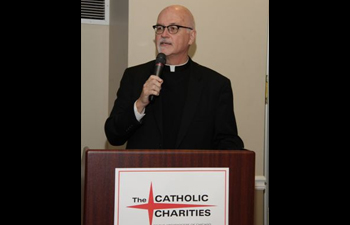 Saint Xavier University (SXU) alum Fr. Terrance Johnson '76 has begun new work with the Sisters of Providence. Serving as chaplain, Johnson offers spiritual direction and ministry to the Sisters, who have a mission akin to Saint Xavier's own – to engage compassionately with and serve the marginalized.
Fr. Johnson studied religion and theology while at Saint Xavier. After graduating, he taught at Saint Elizabeth Seton Catholic School. While there, he began a master's program in theology at the University of Notre Dame and graduated in 1985. After, he began to work at a parish and served as director of religious education at St. Benedict School in Blue Island. After serving there for six years, he went to the University of St. Mary of the Lake, also called Mundelein Seminary, where he earned a Master of Divinity. He was ordained by the Archdiocese of Chicago on May 21, 1994.
Over the years, Fr. Johnson has had a few highlights of his ministerial career. He has served as a spiritual director on the formation team for Mundelein Seminary, a program director at Catholic Theological Union in Hyde Park, and pastor of several parishes. He has also completed various trainings in spiritual direction and has earned certification from Claret Center and Siena Retreat Center. He continues to participate in spiritual direction trainings in addition to his work with the Sisters.
Fr. Johnson enjoys his new work because it is pure ministry and less administrative.
"I provide sacramental service for the Sisters, do liturgy on Sundays, have Mass during the week and visit the Sisters who are in long-term care. I try to lift their spirits and help them see that God is with them and hasn't left them alone in their suffering," said Fr. Johnson.
Fr. Johnson said the Saint Xavier mission of service to the underserved has been the focus of his mission and vocation as a priest. When he was at a parish in Park Forest, the community was underserved and had suffered greatly from economic downturn. There were lots of homes in foreclosure, food insecurity and people underwater. He responded to the need and got a food pantry going with Catholic Charities and began serving 200 people a week - that number doubled and then tripled during the pandemic.
"To serve others is the mission of the Gospel, what Jesus has asked us to do. Matthew 25: ''Whatever you did for one of the least of these brothers and sisters of mine, you did for me.' That's what the Sisters of Providence do as well. One of their mantras is serving with love, justice and mercy, so we spend time thinking about how we live that into the world and our communities," said Fr. Johnson.
Though Fr. Johnson initially dreamed of being a director of religious education and didn't set out to be a priest, over time, he found that his call to serve the church got stronger. He wanted to be a disciple and live by faith.
"To me, priesthood means living out my baptismal call in a concrete specific way. One of my goals as a priest is to offer empowerment to people. We all have that call to make humanity better and make sure people have what they need," said Fr. Johnson.
Fr. Johnson found that the classes he took at Saint Xavier played a big role in giving him the foundation he needed to be open to whatever he may encounter in the world. He found the faculty to be supportive and encouraging and appreciated learning that the universe is bigger than just earth and that it is an image of God. "At Saint Xavier, I had a concentration in world religion and got a really wide picture of religion, faith, God and theology. We focused on many different religions and the way people believe in God and come to the Holy. No matter what someone's faith is, I would never turn anyone away. I really love the diversity in the world," said Fr. Johnson.
Into the future, Fr. Johnson plans to continue to help people through their journeys of faith.
---