SXU Alum Named CNO of Glendale Memorial Hospital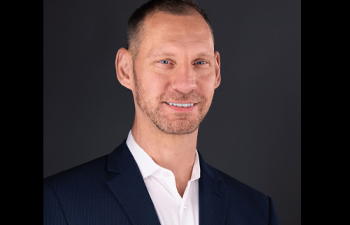 Saint Xavier University (SXU) alum Jim Zolnowski '15 has been named chief nursing officer (CNO) of Dignity Health Glendale (Calif.) Memorial Hospital and Health Center.
Zolnowski, who graduated from Saint Xavier with an MSN focusing on executive leadership, is thrilled to take on the new role.
"My role as CNO is to enhance our excellence in nursing and patient care. This involves creating an environment where our nursing team can provide the best patient care while achieving quality outcomes. Making nursing leadership an attractive career path for our nurses is important to me, so I hope to provide an environment for our nursing leaders where they can have work-life balance while leading teams who are engaged and have a true passion for nursing," said Zolnowski.
Zolnowski has wanted to be in the medical field since he was a child, initially dreaming of being a physician. At 15, he had the opportunity to volunteer in a hospital, where he was assigned to the critical care unit and fell in love with nursing.
"I love nursing because there are so many opportunities to make a difference in people's lives. I've had an amazing career so far and have lived in every area of the country that I have wanted to. You have an opportunity to make lives better, whether it's a patient, their family, or the nursing team you serve as a leader. People remember how you made them feel when they were at their worst; it's nice to run into people years later who tell you that you made a difference in their lives," said Zolnowski.
Zolnowski began his academic career at SUNY Niagara County Community College, where he earned an associate degree in nursing. He attend SUNY Buffalo to pursue his BSN and began working as a new graduate in the intensive care and critical care units at Sisters of Charity Hospital. Soon after, he started working as a travel nurse in Orlando and Miami before beginning his leadership career in 2010 in Las Vegas. He's held roles as nurse manager, director and administrator in Las Vegas, Chicago, Orlando, Boise, Vancouver and Los Angeles, and feels that each have prepared him in different ways to get to the role he's in today.
When Zolnowski decided to enhance his career, he researched many online graduate programs and was impressed with SXU's graduate nursing program since it offered an on-site opportunity many programs did not have. He found the opportunity to network and collaborate in person was very valuable, and he appreciates all he gained from the program.
"It really helped me in time management and learning to work effectively in a group without feeling the urge to take control and do everything myself, which is important when leading a team. I learned the financial skills needed to create and manage a budget, how to effectively evaluate research for evidence-based practice, and how to improve quality outcomes. The program also increased my ability to effectively communicate," said Zolnowski.
At the on-site weekend, Zolnowski's whole cohort came together for lectures and immersion activities. He enjoyed building relationships with other nurse leaders and even those in the military deployed to foreign countries. He found it an excellent way to bounce ideas off each other as well as to compare and contrast nursing in various areas of the country.
Zolnowski encourages aspiring nurse leaders to network and take the jobs no one else wants, and he has some other critical pieces of advice.
"Use humor – appropriately. Always find out the 'why' before reacting and seek out the good in people. Hire people smarter than you and don't be afraid to say you don't know – just say you'll find out and get back to the inquirer," said Zolnowski.
Zolnowski also finds that the SXU core values, particularly compassion, service, respect and hospitality, are key to creating a healthy work environment and providing the best patient experience.
Zolnowski feels at home at Glendale Memorial Hospital and sees himself serving there for many years to come, with a goal of making it the best place for the community to seek care when they need it.
---