SXU Alum Reappointed to Illinois Workers' Compensation Commission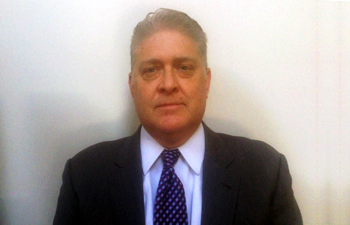 Saint Xavier University (SXU) alum William McLaughlin '90 has been reappointed by Illinois Governor JB Pritzker as arbitrator for the Illinois Workers' Compensation Commission. McLaughlin has served in the role for three years and looks forward to continued work.
While at Saint Xavier, McLaughlin majored in criminal justice. After graduating, he attended the University of Nebraska College of Law and passed the bar exam in Illinois in 1993. His first job was at a small firm in Springfield and he later got accepted to the Cook County State's Attorney office. He served for several years before moving to the Illinois Department of Professional Regulation and served as a prosecutor before going into private practice for 20 years.
In his current position, McLaughlin handles 100 workers' compensation cases per month. While different from private practice, he enjoys having his own call and being in charge of his own caseload. He compares his position to that of a judge, as arbitrators do many of the same things. When he first found the position was open, he thought his background would make him a good fit.
McLaughlin was initially drawn to studying criminal justice at Saint Xavier because he comes from a family of police officers. Saint Xavier's Sister Denis O'Grady is who inspired him to pursue a career in law after graduating from Saint Xavier, as she thought he'd be an excellent candidate for law school.
"Sister Denis O'Grady made a huge impact on me and many others. When I was in private practice, I'd often run into judges who'd gone to Saint Xavier and they all mentioned her. I believe she positively affected thousands of lives," said McLaughlin.
Part of why McLaughlin chose to attend Saint Xavier is because he played baseball. He was initially signed with Lewis University, but after attending a pro baseball tryout camp at Saint Xavier, he took a tour of the school and felt like he was home.
"The program was really strong and a great fit for me. I was born on the South Side of Chicago and found the close college and its small class sizes and approachable professors made for a great family-oriented place," said McLaughlin.
McLaughlin was the baseball team co-captain in 1989 and traveled with the team to Florida. He earned several accolades including "most at bats," "most hits," "most triples," and "most times caught stealing," and was lauded for his hitting career. McLaughlin is still friends with many of his teammates to this day.
"You don't lose the memories or the people you meet at Saint Xavier. I meet up with friends I played with on the team and it's like we never missed a beat. It's wonderful to be able to run into judges, attorneys and team members and relive old times and reminisce about our classes and teachers," said McLaughlin.
McLaughlin will continue to serve as arbitrator for the next three years, but when his appointment ends, he'd like to go into teaching at the undergraduate level.
---