SXU Alum Serves Evergreen Park Community as Veterinarian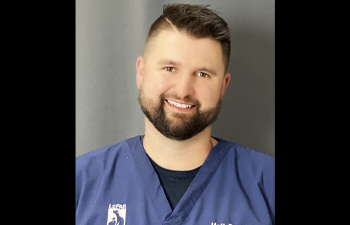 Saint Xavier University (SXU) alum Matt Bauer '05 has worked at LePar Animal Hospital for over half his life, and the fulfilling work he is doing to help pets and families is illustrative of the spirit of service SXU graduates carry with them.
Bauer majored in biology and chemistry and graduated from SXU in 2005. After graduating, he attended the University of Illinois College of Veterinary Medicine and finished with high honors. He began his work as an associate veterinarian at LePar Animal Hospital in Evergreen Park. For the first few years, he also served as a relief emergency veterinarian in a local emergency room and did work for an animal shelter. In 2013, he became partner at LePar Animal Hospital and has been enjoying private practice since.
"I've worked at LePar Animal Hospital since 1999. I started as a kennel attendant and have over the years become one of the owners. It has been very exciting over the years to watch the practice grow, both in clients and veterinarians and support staff," said Bauer.
Bauer also gets to work with another Saint Xavier alum, Dr. Frank Kenny '11. Bauer appreciates that they share so much of the same background and can really relate to and understand the community they serve.
Bauer's love of veterinary medicine started early in life. He's always been interested in medicine and science since he was a child, and after spending the summer after eighth grade taking care of his sick family dog, his career aspirations were confirmed. He's worked in the veterinary industry since he was 16. Though he also had aspirations of becoming an artist, his love of medicine outweighed his love of art.
Bauer was pleased with the scholarships he received from SXU and found it convenient that he could commute to campus. When choosing a college, he was looking for a return on investment, which he found at SXU. He also appreciated the science education he received, which he feels prepared him well for veterinary school.
"The faculty I learned from, especially in the areas of biology, chemistry and business, were wonderful people and excellent instructors. While working at SXU as a student researcher, I gained a substantial knowledge base and a strong appreciation for academia and research. I also learned research was not the best path for me. I am very happy as a clinician," said Bauer.
While at SXU, Bauer was a member of TriBeta, the biology honor society, worked for the Biology Department, studied in a reptile reproduction research lab, and spent some downtime in the theater. He has plenty of great memories from his time at Saint Xavier and appreciates that he has made lifelong friendships and is still in contact with other students and faculty from SXU.
Bauer plans to continue his service as a veterinarian into the future and is thrilled to work in a role he loves so much.
---