SXU Alumna Named Vice President of Academic Affairs for KCC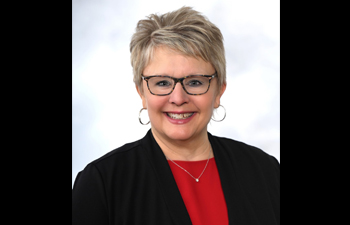 Saint Xavier University (SXU) alumna Sheri Cagle '97 has been named vice president for academic affairs at Kankakee Community College (KCC).
As vice president, Cagle will oversee the credit division instructional services, faculty development and instructional technology, the library, tutoring services, grant management and more. Cagle, who's served the college for over 30 years in different positions, is thrilled to take on the new role and has some new goals to accomplish in mind.
"Over the years, I got a glimpse of the big picture and thought about the ways we could improve. I wanted to be at the forefront of improvement. Everything is about the students. I love the spark in their eyes when they really get it and find what they're passionate about. It's amazing to watch them transition from green students into articulate professionals," said Cagle.
"I've always surrounded myself with others that believed in the power of education and am excited to have the privilege of leading an amazing team. Since coming out of the COVID-19 pandemic, we are challenged with delivering education in a non-traditional method, and we're hoping to grow that modality and offer flexible education to meet the diverse learning needs of students," added Cagle.
Cagle began her nursing journey at Olivet Nazarene University, where she earned a BSN in 1989. She spent time working in oncology and the pediatric head trauma unit and also spent time working in an education department at a hospital. Cagle moonlighted as an adjunct nursing instructor at KCC in 1990. She finished her MSN with a concentration in clinical nursing at Saint Xavier in 1997. Eventually, she took a full-time faculty position for the nursing program at KCC in 2007 and in 2010 took on the role of associate dean of health careers, which later turned into a dean position. She was responsible for overseeing 14 health career programs and led curriculum, development, staffing and budgeting.
Cagle was initially drawn to study nursing because that was her childhood dream.
"I'm the classic story of the little girl who wanted to be a nurse, lined up her dolls and put bandages all over them. Here's what I found out along the way – nursing is a game-changing career. There are so many opportunities that fit into whatever season of life you might be in," said Cagle.
Cagle learned about Saint Xavier from a peer of hers, and once she began working on her master's degree, she found she was thoroughly impressed with the faculty, who made her feel valued and challenged her.
"The faculty took me from one level to the next, and the environment they created helped me understand I could make a difference. One course I took was surrounded around nursing education stories and discussed storytelling and the use of stories. It was so impactful because it taught me to listen. As a nurse, when I am at the bedside, I can glean so much from a patient simply by listening. This knowledge was a game changer for me and something that has stuck with me personally and professionally," said Cagle.
Cagle truly enjoyed the feeling of camaraderie she experienced with fellow nurses gathered in a classroom after working all day long. She appreciated bouncing ideas off each other, commiserating on the bad days and celebrating on the good ones.
"The atmosphere SXU provided us with was wonderful. The professors were approachable and served as an excellent sounding board on how to approach a situation or a problem. I had a great feeling of being supported through my educational journey," said Cagle.
KCC has similar core values to Saint Xavier, and Cagle believes they are part of who she is as a person and challenges her colleagues to live the values out every day.
Cagle plans to end her career at KCC, as she's found it a wonderful place to work and feels privileged to collaborate with such amazing people. In 2008, she lost her first husband to colon cancer, and her grief journey really shaped who she was as a person. In the future, she plans to facilitate a grief sharing group to help lead others through their grief journeys. As for other future plans, she is still pondering!
---