SXU Alumna Aims to Mentor in All She Does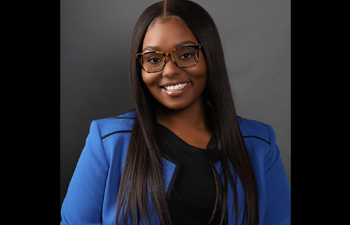 Saint Xavier University (SXU) alumna Taylor Porter '18 strongly believes in the values of service and mentorship, which she gets to provide every day both in her career and in her role on the SXU National Alumni Board.
Porter, who was a communication major while at SXU, began working for McDonald's when she was only 17 and has always loved working for the brand. She consistently strives for growth and has served in various roles over the years, including guest service development manager, operations associate, lead for McDonald's African American Network, and customer care operations business services support consultant, her current role.
Within her position, Porter works to enhance the customer journey and how the corporation interacts with customers. She leads content management with vendors and internal stakeholders, builds and maintains effective working partnerships internally and externally, coordinates responses to high profile/VIP inquiries, and much more. Porter holds multiple certifications and licenses related to leadership and communication.
Porter was also part of McDonald's "Where You Want to Be" campaign, an effort by McDonald's to help restaurant employees connect the skills they learn on the job with education, tuition assistance and career tools. Porter appeared on Windy City Live to discuss her involvement and experiences. The focus McDonald's puts on education and employees' futures is similar to how Porter views her work with SXU's National Alumni Board.
Porter was originally interested in studying criminal justice, as she was fascinated by forensic science and considered becoming an autopsy technician. When she put more thought into it, she realized she wanted to enter a career that meshed with her happy, bubbly personality and allowed her to interact with people.
"I love speaking with people and learning more about them through their stories. I'm definitely a people person. That's why working at McDonald's has been so great for me," said Porter.
Porter found that SXU was the perfect place to study communication and was pleased at how easy the transfer process was and how all of the credits from her junior college transferred over. She was also impressed by the student-faculty ratio and generous scholarship offered to her. Most importantly, Porter appreciates that her time at SXU prepared her well for the future.
"What I learned at SXU is applicable in almost everything I do in my work with McDonald's. Being able to communicate clearly, listen to others, give directions, and act as a leader are skills I apply every day. My time there was so valuable because it gave me knowledge I can apply to real life," said Porter.
She especially appreciates professors such as Cyndi Grobmeier, Dr. Brad Mello, and Pete Kreten, all of whom offered high-impact learning opportunities in the classroom, with assignments like on-air radio skits.
Having had such a valuable experience at SXU, Porter was eager to give back and serve on the National Alumni Board.
"It's so important to give back to the organizations that have had an impact on your life. I love telling my story to encourage students and it's been fun trying to get Saint Xavier more in tune with younger generations. I look forward to getting the University more involved with the community and helping to make sure students have a good college experience," said Porter, who served as the alumni commencement speaker for Saint Xavier in 2021.
Porter is currently working on an MBA and will graduate In May 2023. After she earns her MBA, she aims to continue to progress at McDonald's and work in operations or with the digital customer experience. Her long-term goal is to become a franchise owner and operator.
---