SXU Alumna Excels in Broad Higher Ed Role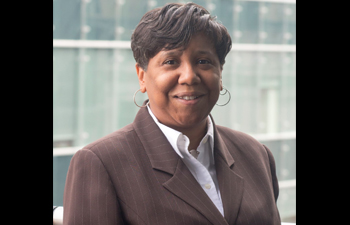 Saint Xavier University (SXU) alumna Ariana Monroe '95 is excelling in the world of higher education, holding a critical position at the Illinois Institute of Technology (IIT) that encompasses a broad range of important responsibilities.
After graduating from SXU with a degree in mathematics, Monroe began working in higher education in student financial aid, spending a short time working at Saint Xavier's Office of Financial Aid. Later, she got into the banking side of student lending and worked for Chase Bank for 13 years. Along the way, she went back to school and earned two graduate degrees – an MBA from DeVry University and a master's degree in higher education administration from Loyola University Chicago. After the student lending business had turned over for private banks, Monroe took some time off before beginning a new position as the senior director of administration, finance, event planning and continuing legal education at IIT.
The broad position allows Monroe to utilize all her formal education, and with so much to do, she accomplishes much each day.
"The title is long, I know," laughed Monroe. "I work with staff at the law school for IIT and help them with onboarding, training, resources, policies and protocol, and academic affairs. In finance, I work with purchase orders and vendors. I do event planning for both the law school and university and continuing education involves helping attorneys who have to keep their licenses up to date."
Monroe enjoys working with the people, especially when it comes to teaching. As she continues on in the role, she looks forward to streamlining, automating and enhancing processes.
Monroe was initially drawn to study mathematics at SXU because of a lifelong natural aptitude for math. SXU was the perfect place for her to enhance her skills.
"SXU was close to home and well-known for its quality programs. I was born and raised Catholic, so attending a Catholic university was appealing as well," said Monroe. "I had a great relationship with the faculty and I felt very comfortable there. I enjoyed the personalized attention and loved the diversity. I lived in Regina Hall, which is where the international students were housed, and I got to meet students from all over the world and learn about new cultures. It's a precious experience I cherished."
While on campus, Monroe was involved with the Black Student Union (BSU) and served as treasurer. She also served as a math tutor and received the presidential scholarship. Monroe has many fond memories from her time at SXU and enjoyed going to jazz concerts, picnics, Homecoming and other family-oriented events.
Monroe especially appreciated the University's emphasis on its core values.
"I continue to instill the core values in myself and try to put them out into the world in a way that helps someone else get to where they need to be," said Monroe.
In the future, Monroe plans to become involved with new professional associations and organizations and eventually begin teaching algebra as an adjunct faculty member. She hopes to retire early and enjoy traveling.
---