SXU Alumna Excels as Entrepreneur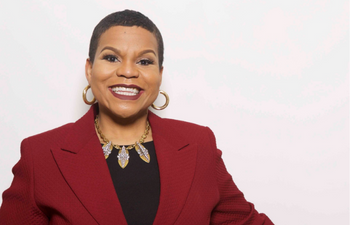 Saint Xavier University (SXU) alumna Marki Lemons '96 has wanted to be an entrepreneur her entire life, the best in her field– and with hard work, perseverance, a passion for learning, and some key advice from her grandfather, she made those dreams come true. Now a 5-time international best-selling author, keynote speaker, podcaster, and marketing leader with over 25 years of experience, Lemons is one of the top real estate trainers in the country, and she spends her life offering her expertise on industry analysis to others.
Lemons specializes in social media training for brokers, banks and title companies. She is founder of ReMarkiTable, LLC and has taught more than 500,000 students and written more than 100 classes approved for continuing education. Her students consistently rank her 5 out of 5 as an instructor due to her knowledge. She's been featured in numerous magazines, newspapers and other outlets, and she also sits on the board of directors of the National Association of Realtors, America's largest trade organization. Though Lemons often got in trouble as a child for talking too much, she defied the odds and now gets paid to speak!
As a young adult, Lemons had a concession business and a restaurant in Chicago which unfortunately did not take off the way she had hoped, and she had to close it down. From then on, she knew she needed more education and wanted to learn the most she could about business, marketing and entrepreneurship. Lemons began her time at SXU immediately after earning an undergraduate degree in business administration and marketing from Chicago State University. She taught hospitality management at the collegiate level and later earned the Certified Distance Education Instructor Certificate from the International Distance Education Certification Center.
Lemons is completely committed to her education and a big proponent of the SXU core value learning for life. She has 64 certifications, designations and licenses in social media and real estate and is already scheduled for more. She will soon learn about NFTs, the metaverse and cryptocurrency. Lemons' dedication to achieving more is made evident by a long list of honors and awards, including Illinois Real Estate Educator of the Year, Realtor Achievement Award, REBAC Hall of Fame Inductee and more. She also stays up-to-date on emerging trends in the realty field by staying involved with multiple professional organizations.
Part of Lemons' desire to become an entrepreneur stems from the long line of successful entrepreneurs in her family. Her family started Chicago's second oldest Black restaurant in 1954, Lem's Bar-B-Q. Her grandfather influenced Lemons with a piece of advice that has always stuck with her – that competition is healthy for business, and it makes one better. He shared a story with Lemons about offering his advice to the founder of Famous Dave's, and she realized the value of sharing knowledge with others. She is grateful to her grandfather for instilling in her the concept of helping others, directly relevant to the SXU mission and core values.
"I was raised as a volunteer and I have aligned myself with schools and organizations that really speak to who I am. It is so ingrained in me. I give time every month because I am lucky enough to say my needs and wants have been met. My parents were teen parents, and when they say, 'it takes a village,' I was that child and my family was that village. I know not everyone has a village, so I give back to others who need that village to instill something that will change their lives. I especially appreciate contributing to women's empowerment," said Lemons.
Lemons enjoyed much about her time at SXU, but most enjoyable was her interactions with others.
"I loved to hear the insight of students from other industries and really enjoyed working together on group projects. I also appreciated the ease of navigating campus and the student resources. My professors were practical and brought a lot of knowledge to the classroom and SXU was a convenient, Chicago-based, accredited school," said Lemons.
Lemons feels that SXU laid the educational foundation to set her up for success.
"When I came into real estate, I had a goal – to feel like a stay-at-home mom and earn an above-average income. My oldest son [who I actually gave birth to the week of my SXU graduation!] graduated from Howard University in 2019 with no student loans. My success from my time at Saint Xavier has enabled me to build a legacy for my children. SXU's reputation has enhanced my self-esteem and allows me to walk into any room and feel as though I am able to compete."
To learn more about Lemons, her books, podcast and masterclasses, visit her website.
---