/
/
/
SXU Alumna and Faculty Member Inspires Next Generation of Nursing Leaders
SXU Alumna and Faculty Member Inspires Next Generation of Nursing Leaders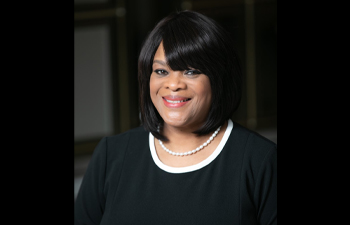 Saint Xavier University (SXU) alumna and faculty member Alesia Coe '91, '00, DNP, RN, NEA-BC, FACHE, has been promoted to vice president for adult inpatient services and associate chief nursing officer (CNO) at the University of Chicago Medicine (UChicago Medicine). With years of experience in nursing leadership, Coe is seen as a true trailblazer in the nursing field and is all about paying it forward and inspiring the next generation of nursing leaders.
In her new roles, Coe oversees the clinical operations, staff and programs of UChicago Medicine's two adult hospitals. She has over 30 years of professional nursing experience and earned both her BSN and MSN from SXU. After graduating, she chose to pursue a doctorate from the University of Alabama because she believed nurse leaders need advanced skills and knowledge to meet the demands of the complex health care environment. She enjoyed the high level of collaboration with her classmates and role modeling for others, especially when it came to encouraging others to continue their education. Coe is a board-certified nurse executive and also board-certified in health care management.
Coe has a long and impressive curriculum vitae that details the range of nursing roles she's served in over the years along with a number of trainings, certifications, presentations, professional affiliations, publications and honors, including fellowships and commendations. Most recently, she served as the associate chief nursing officer of inpatient services at Chicago's Cook County Health and Hospital Systems, where she was responsible for clinical and operational leadership for inpatient nursing. Prior to that role, she served for 14 years in progressive leadership positions within the Veterans Health Administration.
Coe is a 2022 Carol Emmott Fellow and a member of the American College of Healthcare Executives, Chicago Health Executive Forum, Chi Eta Phi Sorority Incorporated: Alpha Eta Chapter, Sigma Theta Tau International: Alpha Lambda Chapter, Illinois Organization of Nurse Leaders, and American Organization for nursing leadership.
Coe can recall precisely when she was drawn to study and pursue a career in nursing -- after her first hands-on patient care experience as a hospital volunteer.
"I saw the impact that nurses had on patients during scary and unexpected times. I was particularly drawn to how powerful a simple act of caring can be, like holding a patient's hand," said Coe, who found the preparation she needed for success in the career at SXU.
"I chose to return to SXU for my graduate studies based on my outstanding undergraduate experience. The size of the school was perfect for me. The smaller class sizes facilitated an opportunity to really get to know my professors and for them to get to know me," said Coe.
Some of Coe's favorite memories during her time at SXU include being in a lab or clinicals with her peers and professors, who helped each other to master content and procedures.
Despite the busyness of Coe's work at UChicago Medicine, she has found the time to give back to students at SXU and has taught as an adjunct graduate nursing instructor since 2017. She enjoys the exchange of knowledge and experiences with students and finds that teaching affords her the opportunity to give back and prepare future advanced practice nurses and nurse leaders. Within her nursing courses, she aims to get an important lesson across.
"Compassionate, person-centric leadership is not optional for a nurse leader. We must be able to connect with others in a way that demonstrates authentic engagement," said Coe.
Coe finds that SXU's Mercy mission perfectly complements her own values, as leading others in a compassionate, caring and fair manner aligns with her faith. She is dedicated to helping mentor and coach women of color through their nursing careers, offering insight and constructive feedback to prepare them for the nursing job search.
"I want to inspire others by sharing my journey, successes and lessons learned. I have had amazing mentors and coaches throughout my career and coaching and mentoring enables me to do the same for others. I grew up in an underserved community with very limited resources. I am grateful to those who supported me," said Coe.
To Coe, being a leader means having the ability to positively influence, inspire and guide others to achieve goals. She will continue to help inspire others to lead and will work with integrity to give a voice to all.
"I define my style as collaborative leadership. Everyone brings something valuable to the table, and I ensure there is space at the table for all voices to be heard."
---