SXU Alumna Gives Back by Supporting Students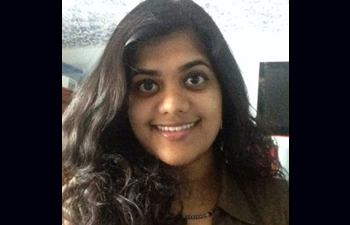 Saint Xavier University (SXU) alumna Mansi Thakar '15 is giving back to her alma mater by supporting students through scholarship funding. A leader in the cybersecurity industry with an employer who matches her donations, Thakar was able to make twice the difference! Thakar feels that she wouldn't be where she is without the spiritual pillar Saint Xavier instilled in her, and she is determined to continue to give back to help others find that same foundation.
Thakar studied chemistry while at Saint Xavier. After graduating, she initially planned to earn a doctorate in nanotechnology, but instead decided to pursue a master's degree in cybersecurity operations and leadership from the University of San Diego. After she completed her graduate program, she interned with and began working full-time for Sony Playstation®. She also gained experience in financial technology and multinational corporations, serving as a key member of global vulnerability management and security awareness.
Thakar is a leader of nonprofits that amplify technical skill sets and promote diversity. She has a flair for sustainable innovative ideas and a history of implementing them successfully. She played a lead role in the PBS documentary "Life Hackers" and spends her summers protecting "the most hostile network on the planet" as a DEF CON NOC goon (conference volunteer).
Currently, Thakar works as a senior security analyst at VMware, a cloud computing and virtualization technology company. Thakar is often referred to by others as the "doctor of digital hygiene."
"I love that the work I do directly helps keep our users and products secure, which indirectly helps the customers. These customers range from school kids tinkering with their first virtual machines to public governments, so it's a big responsibility," said Thakar.
Thakar likes to joke that the only common thread she has between her undergraduate and graduate degrees are that they both start with the letter 'c,' but she was drawn to study chemistry at Saint Xavier because it was the first subject in high school she didn't automatically excel at. To Thakar, chemistry proved to her that she could put her mind toward something and succeed – that it didn't need to be a natural talent.
Thakar came to SXU as an out-of-state transfer student. She didn't have any friends or family in the state, and it was her first time visiting the Midwest. She found that the warm hallways and friendly faculty quickly made it a home for her and made her two-hour commute worth it. While at Saint Xavier, she served as a member of Iota Sigma Pi and feels that the classes, campus experiences, and emphasis on core values really laid the foundation for her future.
"My time at SXU instilled in me the core values. The core value of service is why I have served in nonprofit leadership even before I got my first job. More than that, the values embedded in me the art of learning for life, which is how I have been able to make changes not only with my career path but also within various industries, like entertainment and financial technology," said Thakar.
Thakar encourages fellow alumni to join her in supporting students, not only through their donations, but through resources that can help amplify their support.
In the future, Thakar plans to work at the intersection of cybersecurity and education. She's even interested in eventually returning to SXU to help students learn how to take care of their digital hygiene!
---