SXU Alumna Honored at 2022 Extraordinary Healer Award Ceremony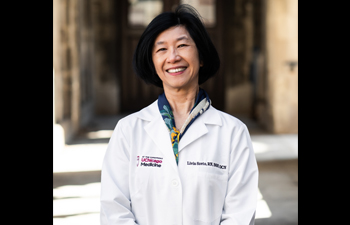 Saint Xavier University (SXU) alumna Livia Szeto '22, BSN, RN, OCN, has been honored as one of three finalists for the 2022 Extraordinary Healer® award for oncology nursing. Sponsored annually by CURE®, a leading multimedia platform providing cancer updates, research and education, the award program receives hundreds of nominations from colleagues, patients, friends and family of outstanding oncology nurses from around the world.
Szeto, a recent graduate of SXU's Master of Science in Nursing in Clinical Leadership program, is currently an oncology nurse navigator. She was nominated by Dr. Christine Bestvina, a thoracic oncologist who specializes in lung cancer. Bestvina spoke of Szeto's compassion, skill and tenacity, and praised the way Szeto facilitates strong relationships across disciplines to improve patient care. Bestvina also highlighted Szeto's research skills, ability to connect with patients, and the intangible things she brings to work each day – joy, hope and fearless optimism.
"I am humbled and honored to be recognized by my peers and patients. I am also thrilled that nurses are recognized for their hard work and dedication!" said Szeto.
Szeto has worked for the University of Chicago since 1987. She was originally a clinical trial research nurse before she took on the additional role of oncology navigator six years ago and now serves in the UChicago Medicine hematology/oncology section.
Though nursing wasn't Szeto's childhood dream, she wouldn't trade it for any career plan. Oncology is the only area she's been interested in since starting nursing school, and she's determined to make a difference however she can to relieve the suffering and pain of patients through their cancer journey from the very first visit. The navigator role is complex, but she enjoys helping patients and their families find their way through the health care system.
Szeto teaches and coordinates care for patients, makes sure their care is coordinated with the right provider, and coordinates for clinical trials. She cares for around 20 patients each day and provides education to ensure they understand each course of action throughout their journeys.
Szeto greatly enjoys clinical research and is optimistic about options and outcomes for lung cancer patients given the major strides that have been made in treatment modalities.
"Cancer clinical research has come a long way. There are so many treatment options for lung cancer patients now compared with just two approved regimens when I joined the team in the late '90s. Though the five-year survival rate remains low compared with other cancers, lung cancer patients live much longer. I sometimes use the term 'chronic disease' to describe lung cancer for some patients – a lifetime disease they will be on therapy for disease control for the rest of their lives. We're also encountering some good long-term sequela problems for patients because they're living longer," said Szeto.
Szeto feels that her time at SXU has provided a foundation and prepared her the constant changes in health care. Though there were challenges in the program, she believes she was pushed to be more resilient.
Szeto plans to continue her oncology nurse navigator role in the lung cancer program and looks forward to exploring other opportunities where she can apply her newfound clinical nurse leader skills and knowledge from SXU. Most importantly, she's eager to continue learning and helping others.
---