SXU Alumna Inspires Next Generation of STEM Students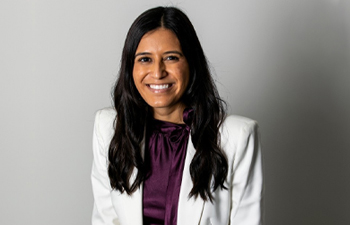 Saint Xavier University (SXU) alumna Janna Eudave '15 has started a new role with Northwestern Medicine. As a community support specialist, she uses all of the leadership skills she attained during her time at SXU to help inspire the next generation of STEM students and leaders.
While at SXU, Eudave studied business with a concentration in marketing and internet and social media marketing. After graduating, she earned an MBA with a concentration in project management from Lewis University, graduating magna cum laude for both degrees.
Prior to joining Northwest Medicine, Eudave worked at the University of Chicago Booth School of Business as assistant director of global programs and events, where she focused on strategic initiatives and global event planning. Through that role, she traveled to Europe and Asia and had the honor of coordinating speaking arrangements for her established Nobel Laureates. Before that, she worked at Lewis University as a residence life coordinator managing the resident assistants and the 24-hour crisis management and emergency response.
Choosing to study business was a natural decision for Eudave.
"It was due in large part to my parents' influence that I pursued a business degree. They're both business owners. My father, Ruben, is a partner at Wentworth Tire Service and my mother, Dora, is a salon business owner and stylist. I was inspired to pursue a business career by watching my parents' business journeys, and I am deeply grateful for their constant support," said Eudave.
In her role at Northwest Medicine, Eudave develops a pathway for the next generation of health care leaders through their youth pipeline programs. Working with senior physicians, scientists and faculty, her team provides STEM career exploration opportunities for high school students.
"Our unique programs promote character and professional development, cultivate life skills, provide community service and leadership experiences, and offer mentorship and networking opportunities. I find this job incredibly rewarding. When there's an opportunity for Northwestern Medicine health care leaders to participate in our programs, they jump at it. I am fortunate to be part of such an incredible culture and it makes me happy to see students interested in medicine and science engaged and excited about their futures," said Eudave.
When Eudave thinks about her takeaway from her time at SXU, one word comes to mind: leadership.
"There are endless leadership opportunities at SXU. I had to work hard to find them, but soon, faculty and staff recognized my potential and recommended me for roles and connected me with interesting internships, work-study roles and scholarships. The small class sizes allowed me to get to know the faculty and build connection with them – they were humble, welcoming and approachable," said Eudave.
Every day, she calls on the core leadership practices she learned while serving in a myriad of roles on campus. Incredibly involved, Eudave served as orientation leader, Transitions peer mentor, resident peer minister, Quest retreat leader, Awakenings retreat leader, member of the Graham School of Management Advisory Board, Public Safety specialist, marketing manager for the Xavierite, volunteer for several Spring Break Service Trips, and teaching assistant for the Achieving Career Excellence course.
The work Eudave got to do at the University was excellent, and though she served on the student board that helped to get GSM AACSB-certified and received the GSM Elizabeth Hunter Service and Leadership Award, her favorite memory from her time at SXU was meeting her husband, Dan Palanyk, at the Quest retreat during her first year of college.
In the future, Eudave plans to pursue a doctorate.
---