SXU Alumna Named Vice President of Sales for Dining RD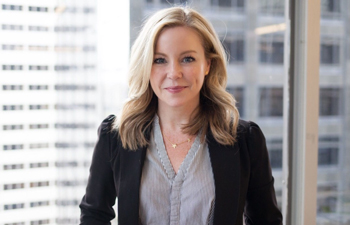 Saint Xavier University (SXU) alumna Meagan Rohan '03 has been named vice president of sales for Health Technologies Inc. (also known as Dining RD). With more than 20 years of experience working in health care and senior housing, Rohan looks forward to helping the company grow and flourish.
Rohan earned an undergraduate degree from the University of Illinois Urbana-Champaign before she began her MBA program in health care administration (and also earned a certificate of managed care) at Saint Xavier. She has been invested in senior living since she was in high school. After taking a summer job at a retirement home, Rohan realized how much it challenged her to grow and decided to follow it as a career path.
After graduating from SXU, Rohan worked in a senior living community with fellow SXU alum Kevin McGee '03. She worked in senior living operations for 10 years building her skills in compliance, operations, sales, team building, corporate communications and fundraising and then began to think about how she could grow and travel more. In her new position, she'll manage all sales activities for Dining RD, focus on relationships in the senior living space, enhance products and services, and travel across the United States and Canada to participate in professional opportunities and promote health technologies.
"What really drew me to the organization was the opportunity to build a leadership team, exceptionally strong revenue, and skills that will allow the team to grow. This is a great way to marry my senior living and sales expertise," said Rohan.
Rohan feels confident that SXU laid the foundation she needed to excel in her career.
"My time at SXU really helped me to grow. I was challenged with finance, statistics, and critical thinking, and I really gained confidence. My professors, especially Dr. Faisal Rahman, were excellent professional mentors. They helped me to shape my professional career and trajectory into leadership. I emulate much of what I learned at Saint Xavier in my own leadership style," said Rohan.
Saint Xavier was the perfect place to pursue her graduate education, especially given her strong ties to the Mercy mission. Rohan has been immersed in Mercy since she was a young girl, following in her mother and aunts' footsteps. With a number of family members attending Mother McAuley Liberal Arts High School and then Saint Xavier, Rohan was influenced to pursue academic and professional excellence and live a life of service.
"Mercy has been instilled in me my entire life. It's part of the reason I chose to pursue Saint Xavier to provide my post-graduate education – I naturally was drawn there for having shared core values. My family has always had a commitment to serve, especially for members of the community and those who are underprivileged. I wanted to support the older adults in our community, and the health care administration program at SXU was perfect for that. Working with them involves compassionate service," said Rohan.
While at SXU, Rohan spent most of her time in the Graham School of Management (GSM) but loved studying in the library and participating in University events, like the annual Cougar 5K. Rohan enjoys distance running, which helps her to meditate and focus on how she can provide support to her team and be a better teammate, leader and friend. She's completed five Chicago marathons and enjoys the challenge of endurance sports. Rohan was also a professional Irish dancer and has traveled all over the world performing.
Rohan has done lots of professional speaking locally and across the country and has attended many conferences in the senior living space. She is most excited for people to see her in a new role and on a new team, and she looks forward to helping her colleagues find success.
---