SXU Alumna Retires From U.S. Army After 34 Years of Service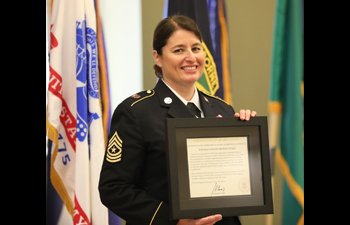 Saint Xavier University (SXU) alumna Arlinda Nuñez '03 has retired from the U.S. Army Reserves after 34 years of honorable service. With sacrifice and determination, Nuñez earned numerous accolades and reached the rank of sergeant major, the highest rank for an enlisted soldier.
Nuñez enlisted in the U.S. Army in 1988 as a human resources specialist and has since then served in every leadership position from squad leader to first sergeant. She has a long list of military training and education including the Defense Support of Civil Authorities Phase I and II, the Common Faculty Development Instructor's course, the Sergeant Major-Resident Course Class 70 and more. Throughout her tenure, she earned numerous awards and decorations, including the Meritorious Service Medal, Army Achievement Medal, Humanitarian and Service Medal, Public Health Service Award and many more.
Most recently assigned to the U.S. Civil Affairs and Psychological Operations (Airborne) as the G-1 sergeant major in Fort Bragg, Nuñez finds that the U.S. Army provided her with skills, flexibility and support. Though she'd never intended to serve such a long stretch of time, she feels the years went by fast and she got to take advantage of everything the Army had to offer in different capacities.
"Serving in the U.S. Army was an easy decision. We are a family of service from the Korean War through today. My father was drafted in the '60s and I knew I would one day follow. I love serving our country, I love training and I love being a leader. Only 17% of all soldiers who join the Army persevere until retirement, and I am proud for reaching this personal milestone," said Nuñez.
In Nuñez's work in the Army, the SXU core values are called to mind, aligning with the Army values.
"Selfless service is a value that I live by daily. Selfless service means doing what is right for the nation, the Army, the unit and the subordinates. I gave so much of my time in the Army and learned early in my career to communicate that who we are, what we do and why we do it are all important. Every time I extended myself, took a risk and succeeded, followers had another reason to trust my leadership abilities and to listen to what I had to say," said Nuñez
Nuñez attended SXU as a non-traditional student and was already married with a child when she enrolled to pursue a degree in communication sciences and disorders. After she earned her bachelor's degree, she went on to earn a master's degree and began working in multiple settings to learn the business aspect of being a bilingual speech-language pathologist. In 2015, she negotiated her first public school contract working for herself and since then, she's worked for multiple districts in the Chicagoland area providing bilingual speech-language therapy. She also worked with the geriatric population providing home health care and contracting at long-term nursing homes. Nuñez now exclusively works with elementary students.
She was drawn to study communication sciences and disorders because she wanted to make a difference in helping others communicate. Nuñez chose SXU because it's a Catholic university and she wanted to attend a school with similar values as her own. She's grateful for all she learned, which helped to prepare her for her future.
"As an undergraduate student, I learned how to work with both children and adults at the Ludden Speech and Language Clinic. One class taught by Dr. Karen Czarnik helped me most. She taught us how to use what we had to help others communicate. She taught us how to use our resources and she reminded us we were never alone. We learned skills you can't get from a textbook alone," said Nuñez.
Nuñez was part of the National Student Speech-Language-Hearing Association (NSSLHA) while at SXU. She has many favorite memories from her time there but especially appreciated the caring nature of the professors. When she was called to active duty after September 11, 2001, her professors allowed her to complete her courses using a modified course content and her classmates emailed her notes.
"Everyone came together as a community to exemplify the legacy of the Sisters of Mercy," said Nuñez.
In the future, Nuñez plans to travel with her husband, Jesse. She regrettably had to miss family events during her training but looks forward to enjoying family and friends into the future.
---