SXU Alumna Serves Community to Help Young Students Succeed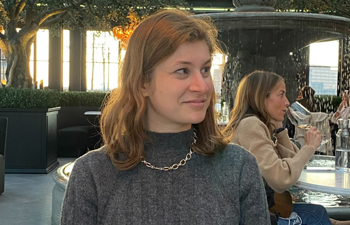 Saint Xavier University (SXU) alumna Hadeel Hejja '16 is using the skills she gained at SXU to give back to others and help young students succeed in the classroom.
After graduating from SXU with a degree in communication sciences and disorders, Hejja attended Northern Illinois University to earn a master's degree in applied behavior analysis. While in school, she got married and had a child and then worked in a private therapy clinic as an applied behavior analysis therapist and intern for clinical hours. She passed the Board Certified Behavior Analyst exam in May 2019 and then worked at a large private applied behavior analysis center before moving to work for a nonprofit.
In August 2021, she made the change to work in a public school, Plainfield School District #202, where she collaborates daily with teachers, speech-language pathologists, occupational therapists, social workers and more.
"I love going to work every day. At a school, I feel like I can actually help students and classrooms succeed. With the current state of the world, school systems can really use support, and I personally think the application of my behavior background can help students learn to be students in the classroom. After a year of remote learning and instability, students are really struggling this year," said Hejja.
Hejja feels that her time at SXU prepared her well for her career journey in communication sciences and disorders.
"The knowledgeable professors, kind students and overall work ethic of the staff and students on campus prepared me well for my future. Specifically, I remember going to one of the CSD professors during the last semester as an undergraduate in tears. I had just gotten my final rejection to a graduate program for speech-language pathology, and I felt a cloud of failure looming over my head. This professor was kind, understanding and compassionate, and she provided great advice.
"She said, 'Hadeel, you won't know how things will work out, but they will. You are going to think about this moment in five years and it won't seem like a big deal.' And Professor [Maureen] Schmitt was right. It's been five years, and I've put in a lot of work and focus to make something of myself. SXU contributed to that by challenging me every step of the way," said Hejja.
Hejja credits her interest in speech disorders to her own. In 2011, she had a brain injury, which required a lot of rehabilitation in speech, occupational and physical therapy. She was most intrigued with speech therapy since she had to learn to speak all over again, which she found heartbreaking and extremely difficult, especially since her identity was based on singing and acting, making it jarring for her to lose the ability so speak. However, it also made her determined to learn all she could to help others experiencing the same difficulties feel there is a chance at speaking confidently again. SXU provided her the foundation to do that.
"I enjoyed working with the students across different programs to help my understanding of the world become clearer. I also loved my time working in the Ludden Speech and Language Clinic as part of my undergraduate practicum, since I got to meet many different people with different speech challenges," said Hejja.
While at SXU, Hejja was involved in the National Student Speech Language Hearing Association (NSSLHA) and on the board for Students for Justice in Palestine, where she organized actions and events to bring injustices to Palestinians to light.
In the future, Hejja plans to pursue a second master's degree or a doctorate in psychology to continue to help those in need. She enjoys working in the public sector to help those who wouldn't have access to therapy services otherwise.
---