SXU Alumna Works to Create Brighter Future for Others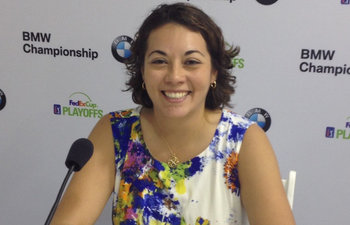 Saint Xavier University triple alumna Candace Ramirez '02, '04, '05 has dedicated her life to work that will forge a brighter future for others – and it all started from the moment SXU's core values were instilled in her as a student.
Ramirez started her college career at University of Illinois Chicago, and though she knew it was a good school, it was so large that she felt she got lost in the shuffle. Her older sister had graduated from Saint Xavier and encouraged Ramirez to give it a try, so she did.
Full of aspirations, Ramirez wasn't quite sure what she wanted to do yet, so she majored in liberal arts and began taking elective computer courses, which she was really excited about. She got so involved that she became part of the first cohort of the Master of Applied Computer Science (MACS) program and even got to provide her input on curriculum to deans and faculty. When she learned there was a dual MBA program, she enrolled and was able to leave Saint Xavier with three degrees.
"I loved my coursework and the culture of Saint Xavier. My time there was such an eye-opening experience and was something unique that I wouldn't have been able to get at any other school. The programs, the resources, but especially the people, I'll never forget," said Ramirez.
As a student, Ramirez was president of the computer club. She has fond memories of University formals, spending time by Lake Marion, and studying in the library.
After Ramirez graduated, she went through a progression of career changes, working in a veterinarian's office, as a marketer in wholesale stores, as a makeup consultant, and in a property management office before moving on to work for Allstate Insurance Company. She got her foot in the door as an executive assistant but always had the drive and determination to continue to learn and grow. She eventually became a regional marketing analyst and then senior marketing consultant before she transitioned into her current role, associate grants manager, where she believes she can execute her passion and purpose.
"I've really been able to build a brand for myself at Allstate. I've served as president of our professional Latinos group and some people even call me the 'mayor' of Allstate. Through my work with the Allstate Foundation, we're hoping to empower people and communities so they can thrive. We're committed to making an impact and are focused on three pillars: relationship abuse, racial equity and youth empowerment. We're investing heavily in helping people to overcome barriers and leading the charge in how other corporations can do these things better," said Ramirez.
Ramirez also serves as the president of SWADDLE (Southwest Area Diaper Depository for Little Ends), an organization that aspires to provide diapers to needy families in Chicago's Southland. Most recently, she connected her work at SWADDLE with Saint Xavier for a service project. Faculty, staff, students and alumni gathered in the SXU Diner Atrium to repackage diapers for families during Homecoming Week, packaging a total of 30,000 diapers. Ramirez is also working to lobby politicians to ensure diapers are taxed at a lower rate and can be purchased with government subsidiaries.
Inspired by SXU's core values and mission, Ramirez feels she is a better leader because of what Saint Xavier instilled in her. She believes she has always been called to give back to others, and her time at SXU encouraged her to give more of her time and forge a better future for those who will come after her.
"I have always left the door open for people to follow me. Not a lot of leaders do that," said Ramirez.
Ramirez continues to stay involved with SXU and has served as president, vice president and secretary of the National Alumni Board. During her time on the board, she was able to help many first-generation students and was thrilled to raise funds for student scholarships. She is pleased to pass the torch to help others receive the education that shaped her life.
"I really do use my degrees every day. Not a day goes by that I don't think of the great things Saint Xavier has afforded me, from networking opportunities to lifelong friendships," said Ramirez.
In the future, Ramirez plans to continue her journey of lifelong learning and get involved with more service projects at SXU. She aims to push the envelope in her work with Allstate and leverage the power she has to ensure she is changing the culture of the corporation through philanthropic efforts.
---