SXU Alumni Contribute to "Through Our Eyes" Book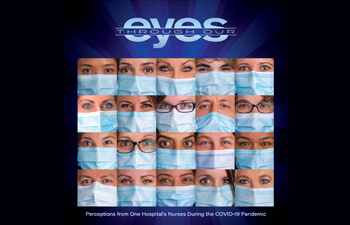 Several Saint Xavier University (SXU) nursing alumni have contributed to "Through Our Eyes," a collection of firsthand narratives written by nurses caring for COVID-19 patients at Advocate Christ Medical Center in early 2020. Stories consider the innovation and critical thinking required of nurses during a pandemic, the struggles, suffering and recoveries of patients, and the resilience, bravery and adaptability of the health care team at Advocate – a raw glimpse of what it was like to be a COVID-19 nurse, through their eyes.
"Through Our Eyes" launched in March 2021 and many of the contributing authors have participated in book signings, table visits and conferences to share their stories. They have found that participating in the project was therapeutic for them and helped them to be able to cope with their COVID-19 experiences.
SXU alumni Gemini Bhimani '18, BSN, RN, Geanette Barry '05, BSN, RNC-MNN, CBC, Laura Lipkie '98, RN, and Mallorie Hammerstein '16, BSN, RN, all contributed their stories to the book, and Kimberly O'Connor '03 oversaw the production.
Bhimani, who is a clinical adjunct faculty member at SXU, feels the culture and spirit of Saint Xavier prepared her to have a positive outlook. She recalls that compassion, understanding and teamwork were character traits emphasized throughout her nursing curriculum and finds that building those character traits have helped her to help her patients, colleagues, friends and family, especially during the COVID-19 pandemic. She is grateful to have contributed to the book.
"It gave an opportunity to health care workers to explain the rollercoaster of emotions we were feeling during the pandemic. Oddly enough, I found it exciting – I felt that it gave me purpose. I felt like this is the reason why I became a nurse. Taking care of patients, helping other departments, and teaching colleagues about psychiatric nursing and skills we use to take care of patients was so rewarding and filled me with pride. Nursing is a phenomenal career choice that provides job stability, personal fulfillment and that heroic feeling that makes every hurdle worth getting over," said Bhimani, the author of "Learning."
Barry, who has served as a nurse at Advocate Christ Medical Center for 16 years, finds that her time at SXU has prepared her and taught her the resiliency needed to work during a global pandemic. Barry's contribution to "Through Our Eyes," a story called "I Never Saw it Coming," was written to help her express the words she couldn't speak about what she was experiencing at the outbreak of the pandemic. Though she never envisioned providing care for bereaved families in a pandemic, she feels the nursing program at SXU made her the kind of nurse who could withstand challenges with hard work and faith.
"The high standards and expectations SXU sets for it its students and the diverse clinical courses and clinical experiences helped me to accept, adapt and adjust to the changing acuities of our patient population and the multiple roles we had to take on as a result of the pandemic. The SXU nursing program instilled in me that the nursing profession would require lifelong learning and the skills needed to face the unforeseen challenges being a nurse would bring on all levels – physical, mental, ethical and spiritual. Every professor, course and experience I had taught me to think holistically and creatively when caring for our patients," said Barry.
Lipkie, a telemetry nurse, still recalls much of what she learned at SXU in her daily life, including an important skill she learned from Dr. Karen Wood – that communication is an essential skill for nurses. She often draws upon the skills she learned in her psych rotation and OB clinical.
"I'm proud I went to Saint Xavier. It was a great school. I see the nurses that are coming out of SXU today and they really know their stuff – SXU is doing an excellent job preparing new nurses. Participating in a project like this was therapeutic. Despite the scariness of everything that happened during the COVID-19 pandemic, I want nurses to know there is hope. It's not an easy profession, but it's never boring!" said Lipkie.
For Hammerstein, who works in surgical trauma intensive care, the COVID-19 pandemic caused a rollercoaster of emotions, especially since she was only six months off orientation at the beginning of 2020. Though the pandemic was entirely unexpected and she experienced burnout, she can't imagine herself in another field of work.
"The honor I feel being able to take care of patients who are near death is immense. Nursing is part of my identity, and as grueling, unfair, heartbreaking and exhausting it may be, it is also rewarding beyond measure. Miracles happen, and we are the ones who set the table. I am grateful for SXU for molding me into the nurse I am today. The high standards of the program yield devoted and well-prepared nurses. Some of my professors and clinical instructors were tough, others showed endless compassionate and empathy and some had intelligence that always challenged us to think beyond. I will always be proud that my bachelor's degree in nursing is from SXU," said Hammerstein, who wrote "I Wish You Could."
O'Connor, also a former adjunct language and literature professor at SXU, works in operations and special projects for nursing.
"Personally, SXU helped me prepare to take on anything in my career, even overseeing the production of a book in just six short months. The versatility of skills I developed through my English degrees allows me to pursue and achieve many personal and professional goals, from teaching to writing, to planning and organizing events and projects, to fundraising. My professors in the English Department—Dr. Bonadonna, Dr. Boyer, Dr. Hathcock, Dr. Poston, Dr. Rossetti, Dr. Sheridan—were so supportive. They challenged me to do my best and consistently pursue new and higher goals. I am very proud to be an SXU alumnus," said O'Connor.
For a special celebration of Nurses Week and "Through Our Eyes," readers can meet Lipkie, who wrote "Crazy COVID-19 World" on Wednesday, May 11 from 4 to 6 p.m. at Lori's Gifts on the first floor of Advocate Christ Medical Center. Guests can also enter the Nurses Week Raffle.
To learn more about purchasing "Through Our Eyes," email cmc-ThroughOurEyes@aah.org.
---