SXU Announces 2022 Commencement Speakers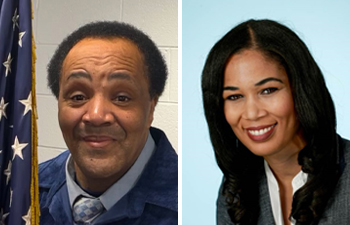 Saint Xavier University (SXU) is pleased to announce the 2022 Commencement speakers, who will share their knowledge and expertise while congratulating this year's graduates on achieving their high-quality academic degrees.
On Saturday, May 7, Kimbriell Kelly '97 will address the graduates of SXU's College of Arts and Sciences and Andrew Holmes will address the graduates of SXU's Graham School of Management (GSM) and School of Nursing and Health Sciences (SONHS). Kelly will receive an honorary degree of Doctor of Arts and Letters, honoris causa, and Holmes will receive an honorary degree of Doctor of Public Service, honoris causa.
Kelly is an esteemed graduate of SXU and Boston University's prestigious graduate program in journalism. She currently serves as Washington bureau chief of the Los Angeles Times, where she leads the 30-person team responsible for reporting on national policy and politics. Kelly has twice served as visiting lecturer in the Humanities Council and Ferris professor of journalism at Princeton University.
Kelly's local career began at the Daily Herald, a widely-circulated newspaper covering suburban Chicagoland. She then investigated issues surrounding racial and economic quality first as a reporter and then as the editor of The Chicago Reporter, eventually overseeing a Sigma Delta Chi award-winning investigation into tenant evictions by the Chicago Housing Authority.
Prior to joining the Times, Kelly was an investigative reporter at the Washington Post, where she started in 2012. While there, she was a lead contributor to the 2016 Pulitzer Prize for National Reporting for the critically acclaimed series on officer-involved shootings. In 2019, she was a finalist for the Pulitzer Prize in Explanatory Reporting for her coverage of unsolved urban homicides.
Kelly is also the recipient of the Polk Award for National Reporting, NABJ Salute to Excellence Award, Herman Kogan Award, Paul Tobenkin Memorial Award, Clarion Award and Chicago Headline Club Award.
Holmes is a crisis responder, police liaison and community activist. Since surviving a gunshot wound as a young man, he has dedicated his life to ending gun violence in Chicago and beyond.
Holmes currently serves as a crisis worker for Chicago Survivors and provides multicultural services to family members of Chicago homicide victims. He also advocates for senior citizens, starting Club 100 to celebrate the lives of area centenarians. Holmes actively supports the homeless population of Chicago and serves as a village trustee for the city of Dolton.
A recipient of the 2011 Crime Stoppers award, Holmes was recognized by the Cook County Board of Commissioners in 2014 for his work with the FBI and Chicago Police Department (CPD) in the recovery of young victims of kidnapping and human trafficking. In 2015, former Chicago mayor Rahm Emanuel declared February 26 "Andrew Holmes Day" in recognition of his community activism.
Commencement ceremonies will be held in the Shannon Center, located at 3700 West 103rd Street. This event requires tickets for admission. For more information about SXU's 2022 Commencement ceremonies, visit SXU's website or contact commencementFREESXU.
---