SXU Announces Head Coach for Esports Program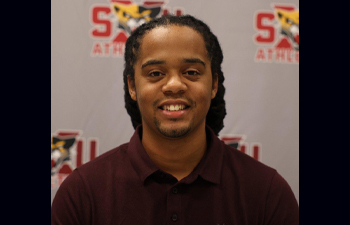 Saint Xavier University (SXU) selects Lemar Daniels as head coach of the new esports program that will begin competition this fall for the 2022-23 season. Esports, or electronic sports, are multiplayer, organized video games played competitively. The coed team will call the Shannon Athletic and Convocation Center home, utilizing the space that once housed the on-campus bookstore.
Daniels previously served as esports coordinator at Lourdes University (Ohio) for the last three seasons. While under his leadership, the Gray Wolves won the Great Lakes Esports Conference (GLEC) fall 2020 championship in League of Legends. They also won both the GLEC spring 2021 and Wolverine Hoosier Athletic Conference titles while playing Overwatch. In 2022, the team advanced to the 2022 Overwatch Collegiate Championship Sweet 16. Daniels served on the National Association of Collegiate Esports (NACE) Competition Council from January 2021 to July of 2022 and was named the NACE National Overwatch Coach of the Year in 2021.
Daniels earned his bachelor's degree in business administration with a minor in sports administration/coaching from Washington Adventist University in 2016. He completed the master's programs in business administration in 2018 and in sports administration in 2019 from Ohio University.
"I am beyond excited to lead Saint Xavier in their first steps into the collegiate esports scene," said Daniels. "This is a historic institution and I'm honored to be able to bring my experience to the table as the Cougars enter a new space."
"Lemar's experience in esports and intercollegiate athletics and his passion for working with students make him an excellent leader for this new opportunity. We are excited for him to be a part of the Saint Xavier University community and look forward to the growth of this new initiative," said Matt Cunningham, director of Athletics.
Coach Daniels is recruiting students interested in joining the program for the 2023-24 season. To learn more, contact cdanielsFREESXU.
---