SXU Biology Student Earns Outstanding Project Award at Research Expo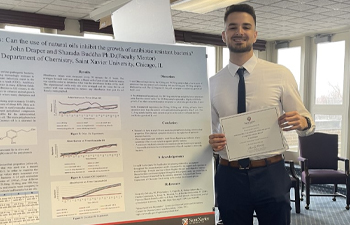 Saint Xavier University (SXU) biochemistry and biology pre-health student John Draper has received an Outstanding Project Award for his Research Expo project, "Medicinal Oils: Can natural oils inhibit the growth of ampicillin resistant E. coli?"
Draper was inspired to conduct his research after watching a documentary called "Resistance" in his first-year biology course. The documentary outlined problems with antibiotic-resistant bacteria and called for action. During his organic chemistry and biochemistry classes, he started to learn the medicinal properties of many natural products and wanted to test whether common oils, such as olive, coconut and avocado oils, could inhibit bacterial growth and provide a potential solution to the rapid rise of antibiotic-resistant bacteria.
"It is a great honor and I am truly blessed to be awarded for an outstanding project. Dr. Buddha, my research advisor, has helped me so much with this project. It could not have been possible without her support. The whole chemistry department, especially Professor Westerhoff, Dr. Kiddle, Dr. Wiester and Dr. Alappat, among others, were wonderful with answering my questions and providing support," said Draper.
Draper was drawn to study the sciences ever since a high school anatomy class, where he realized he wanted to learn more about the human body. He was also interested in pursuing a career in health care and felt that biology would allow him to obtain a great foundation. He found that foundation at SXU.
"The classes I've taken at SXU have greatly prepared me for my future in professional school. The small class sizes allowed me to become close with my professors and find my interest in the medicinal properties of oils, as well as ask questions and better understand the material. Without the individualized attention and discussions with my professors, I would never have declared my second major in biochemistry," said Draper.
Draper believes that engaging in this research has advanced his critical thinking and teamwork skills. He finds that working in the chemistry lab has helped him to boost his collaboration skills and learn how to operate important equipment.
Draper serves as president of the Pre-Professional Society, vice president of Tri-Beta, the national biology honors society, secretary of the Pre-Med Society, and a member of the American Chemistry Society. For the past three years, he has also been a chemistry tutor and chemistry supplemental instruction leader at SXU's Learning Center.
One of Draper's favorite memories of his time at SXU was his EXPLORE STEM trip to Yellowstone National Park in 2020. He loved the experience at the world's largest intact temperate-zone ecosystem and was thrilled to see wolves, elk, foxes, bears and more. He's also a big fan of the SXU community.
"Throughout my years here, I've had the great privilege of meeting so many amazing people who have quickly become my family. I am blessed to meet these people and establish relationships that will last the rest of my life. They have helped me through so much and without them, I would not be where I am today. They deserve all the praise," said Draper.
In the future, Draper plans to take a year to study for his MCAT and then apply to medical school.
---