SXU Celebrates Disability Pride Month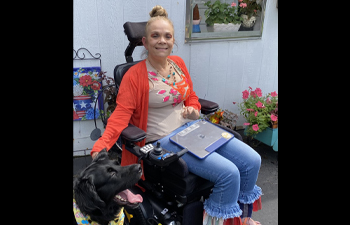 July is Disability Pride Month, and Saint Xavier University (SXU) is celebrating by empowering and listening to the disability community. This year, SXU's Margaret Rose McDonnell, director of the Center for Accessibility Resources, shares her thoughts on the significance of Disability Pride Month and her hopes for the future.
"As I reflect on the importance and significance of Disability Pride Month this year, I am again reminded of what this movement personally means to me. Commemorating the landmark passage of the Americans with Disabilities Act in July 1990, this month-long call to action also celebrates the 1 billion disabled people worldwide and their identities and cultures. All too many individuals are made to experience lives and events that try to define them for who they are rather than their human dignity.
Now receiving worldwide support, disability pride to me enables individuals with disabilities to take 'fulfillment' in their whole selves and to celebrate and applaud how disability is a natural part of human diversity. As an educator and person with a disability (tetraplegia), disability pride is also an integral part of our intrinsic worth and of being seen and heard. Moreover, recognizing people for their disabilities and embracing their inherent dignity and civil rights are the fundamental ways to eliminate discrimination, prejudice and inner shame, thus rejecting ableism.
While 15% of the world's population lives with a disability, this life-affirming celebration honoring people with disabilities is still not officially acknowledged within the United States, even 32 years after enacting the landmark law, Americans with Disabilities Act. As an administrator in higher education, I want the faculty, staff and students with whom I work to empower one another to be altruistic and nurture the potential in every individual. More importantly, I want to promote and increase the visibility and achievements of those of us with disabilities and demystify and dispel the negative perceptions that the world tries to label us by and keep us from attaining our rightful places in the larger society.
In the not-so-distant future, my greatest hope and dream is no longer to discuss the relevance and importance of these events that allow us to reflect accurately and engage in who and what we are - instead, to relish the incredible gifts our disabilities have afforded all of us. I am also a strong proponent of incorporating our service animals into our daily work environments to support the equity of our lives. As a prominent and strong disability advocate, I strive for my students to be their true and authentic selves every day, without limits. For this is the legacy and world I wish for them to be included in and to find their diversity accepted and thriving."
SXU's Center for Accessibility Resources is committed to working closely with staff and faculty in support of equal access, reasonable accommodations and academic assistance for students with documented disabilities, with a central mission of celebrating and recognizing disability identities with great pride. To learn more, visit the Center for Accessibility Resources web page.
---