SXU Celebrates Mercy Day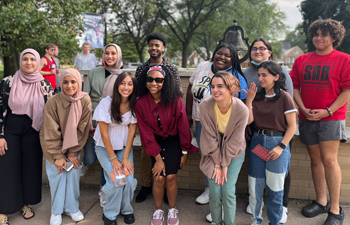 Saint Xavier University (SXU) recently celebrated the annual tradition of Spirit of Mercy Day, which honors the institution's Mercy identity and heritage, made even more special this year with the 200th birthday of Mother Agatha O'Brien, Saint Xavier's first directress, or president, falling the day after. Spirit of Mercy Day marks the day that Catherine McAuley opened the first house of Mercy in 1827. SXU's legacy can be traced to the arrival of the first Sisters of Mercy to Chicago in 1846.
Spirit of Mercy Day was celebrated with a special Mercy Day Mass at noon at McDonough Chapel. The SXU Chamber Singers, led by Professor Tom McNichols, presented beautiful music for the Mass, organized by Jenny DeVivo, Ph.D., director of Mission and Heritage, and Kateri Golbiw, director of Campus Ministry.
Later that day, the SXU community celebrated with the Student Leader Commissioning, an annual tradition that honors University leaders at the Academy Bell. The Bell, which pre-dates the Chicago Fire of 1871, once called the Sisters of Mercy who started Saint Xavier to prayer and to action each day.
Student leaders are blessed by the SXU community and then ring the academy bell to symbolize their dedication to continue inspiring professional growth, compassion and respect among the Saint Xavier community. The hope for calling leaders forth to ring the bell is that its toll will stir their hearts to renewed faithful service to the Saint Xavier community.
On Thursday, September 22, the SXU community came together to celebrate the 200th birthday of Mother Agatha O'Brien. The community gathered in the SXU Diner Atrium for cupcakes, a photo booth, pins and bookmarks honoring Mother Agatha, discussion, and celebration. Attendees were also given a prayer card featuring a portrait of Mother Agatha on the front and the Prayer of Mother Agatha on the back.
Born Margaret O'Brien on September 22, 1822, in Carlow, Ireland, Mother Agatha was educated by the Presentation Sisters, who focused their energies on creating schools that would educate young people, a passion Mother Agatha would pursue in her later work. She received the religious name Agatha as the first postulant of the Sisters of Mercy before going to Chicago, where she became the first superior of the Order. Described as a woman of exceptional judgment, quick apprehension and piety, Mother Agatha helped establish St. Francis Xavier Academy in 1846. She sadly succumbed to cholera at just 31 years old, but the impact she left on the world is remarkable.
All week long, members of the Saint Xavier community reflected on the ways they choose to live in Mercy every day and came together in pride to honor the rich heritage of their beloved institution.
---