SXU Celebrates Pride Month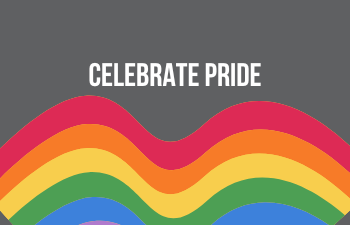 Saint Xavier University (SXU) is celebrating Pride Month during June, a month of LGBTQIA+ (lesbian, gay, bisexual, transgender, queer/questioning, intersex, asexual and many other terms, such as non-binary and pansexual) awareness!
Pride Month is observed in June as a time to commemorate the Stonewall Riots, a series of demonstrations by members of the LGBT community in June of 1969 after a police raid at The Stonewall Inn, a bar that catered to an assortment of marginalized communities. The riots are considered to be part of the most important events leading to the gay liberation movement and fight for LGBT rights and equality in the United States.
In honor of Pride Month, Joshua Bogaski-Baugh, executive director of Student Success, has compiled a Pride Month List of readings, resources and media suggested by friends, allies and colleagues. In addition, Bogaski-Baugh will be hosting a Safe Zone Ally training open to all students, faculty and staff on June 28, the anniversary of Stonewall, from 9 to 11 a.m. The Safe Zone program at SXU promotes an inclusive and welcoming environment for LGBTQIA+ persons by educating allies on implicit bias, stereotypes, terminology related to sex, gender, sexual orientation, relationships and gender identity expression, as well as the privilege and limitations of oppression.
"I came to SXU with a goal of cultivating safe and welcoming spaces for our queer students, staff and faculty, and I think we have come a long way. Since 2017, we have seen the addition of gender-inclusive restrooms, a formal Safe Zone ally training program educating individuals on LGTBQIA+ inclusivity, and the creation of a visible network of support. Additionally, resources and programming have been created to promote the success of queer-identifying students throughout their college careers," said Bogaski-Baugh.
The University looks forward to future events and opportunities to celebrate the LGBTQIA+ community.
"We can never say, 'it is enough,' as Catherine McAuley said, and these words motivate me to continue to find ways to support our LGBTQIA+ community at SXU and educate individuals across the University about queer inclusivity through education and celebration. Next year, I hope to see the inclusion of a Lavender Graduation event!" said Bogaski-Baugh.
SXU's registered student organization Spectrum Alliance works throughout the year to promote the acceptance of diversity throughout the community and provide a safe, secure environment for the LGBTQIA+ community and their allies through educational and social programs. To join or learn more, email spectrumFREEmymail.SXU.
The SXU community can participate in Pride Month activities by visiting the Robert and Mary Rita Murphy Stump Library to view a display of books, films, documentaries and more, participating in events and art projects with the Chicago Public Library, attending events going on in the Chicagoland area, and supporting Chicago's queer community.
---