SXU Computer Science Students Earn Outstanding Project Award at Research Expo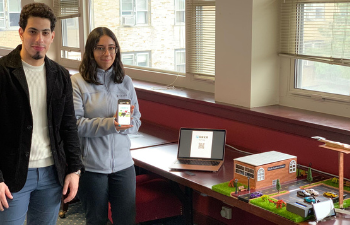 Four Saint Xavier University (SXU) students recently earned an Outstanding Project Award for their Research Expo project, "Project PARKA." Amr Alshatnawi, Alejandra Lopez, Karlee Barr, and Daniel Carabez all major in computer science, with Lopez also studying graphic design and Barr also studying math.
Project PARKA began in the students' software engineering course, when they decided they wanted to develop a software product that detects the number of empty and occupied spots in a parking lot. They used a Raspberry Pi (a single-board computer) to run the code, which is developed in Python (a high-level programming language). They also built a physical model to demonstrate how the product works and are in the process of developing a mobile application, which will allow users to use the software product.
"Our team was very excited to work on a real-world project that will ultimately help solve an issue students, faculty and staff face on campus. Developing a product that helps us find parking easily on campus was an idea we believed would be very beneficial, and it was amazing to learn how we could apply the skills we learned to invent, explore and find solutions to real-world problems," said Alshatnawi.
The team feels the award is not just a result of their hard work, but a reflection of the efforts and guidance of the faculty, staff and students of the Computer Science Department, who they are very grateful for. While undertaking the project was challenging, they believe it helped teach them to commit to finding solutions to any problem they'll face.
The team members are also very involved on campus, active in multiple student organizations and committed to leadership and service. Alshatnawi completed the Cougars Lead Leadership Certificate in the spring and Lopez served as vice president of Cougar Code.
"We love everything about SXU. The classes, events and people we met have made our experience unforgettable. For me, the moment I stepped foot on campus. I felt like I was home. The community is what makes Saint Xavier special. As a student at SXU, you're not just a number – you're family," said Alshatnawi.
The team feels the classes they've taken at Saint Xavier have given them a strong foundation and made them more confident and committed to continue exploring and learning. They feel well-prepared for careers in a STEM field.
The team has many goals for the future. Alshatnawi plans to earn his master's degree in artificial intelligence and work on projects that will positively impact the world. Lopez looks forward to continuing her studies in user experience design and freelancing graphic design projects, ultimately hoping to set up her own studio. Barr is interested in getting into game design and Cabarez plans to work as a software programmer and then transition to a specific aspect of software development.
---