SXU CSD Student Enters Nationwide Scholarship Competition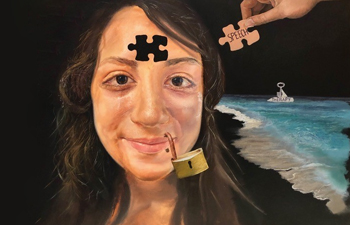 Saint Xavier University (SXU) communication sciences and disorders student Fatin Nassan has entered Church Hill Classics' Frame My Future scholarship competition, a nationwide contest for college students to submit an original work of art that visually displays their future plans and aspired career paths. Church Hill Classics will select 25 finalists.
Nassan's project is centered around her future aspiration to become a speech-language pathologist. In her work, she aims to showcase speech and communication as the foundation of socialization, a necessity of societal functioning.
"Speech therapists are critical and provide individuals with speech disorders the opportunity to better communicate their thoughts and intents. My artwork shows a speech therapist who puts together the last piece of the 'puzzle' in order to fully comprehend what the client is intending to communicate. The painting features a padlock around the client's mouth, which is only unlocked with the help of the therapist. This symbolizes the freedom of speech and expression that speech therapists often grant.
"The key to the padlock is observed on a boat floating on the ocean within the painting. As a bilingual Muslim, one of my goals is to help refugees who have trouble communicating. Boats represent hope for freedom for many immigrants, and incorporating the key symbolizes hope for freedom of expression. I want to be able to give individuals with speech disorders the opportunity to communicate and improve their quality of life, especially Arabic-speaking refugees, who are often underrepresented and can't find the adequate resources they need," said Nassan.
Nassan was drawn to study communication sciences and disorders because she's witnessed how important speech is to everyday functioning and how obstructive a speech disorder can be. She finds the major provides the opportunity to help people and that the skills she is acquiring can be useful for a lifetime.
"My classes at SXU are giving me the much-needed exposure and education required to succeed in my potential career path. My classes are currently teaching me the importance of group work and how to socialize with other students in a way that is effective and beneficial to our mutual goals. My professors also give me useful advice from real-life experiences to improve my chances of success," said Nassan.
Nassan chose SXU because of the smaller class sizes and personalized educational experience. She finds that her professors dedicate real time and energy toward her success, which has allowed her to develop closer professional relationships with them. She's especially enjoyed meeting new people and forming friendships with like-minded, hard-working students, which allows her to thrive in her college experience.
She is grateful for her influential professors, especially Giselle Núñez, Ph.D., and Keisha Stoute, both of whom prioritize student learning and comprehension and present material in a way that is simple to understand and enhances learning.
In the future, Nassan hopes to join speech-language pathology and art clubs or organizations. She plans to earn her master's degree and work in school or hospital settings to assist individuals with speech disorders. In the meantime, she'll continue practicing her hobbies – drawing, painting and baking!
To vote for Nassan, visit her project on the Frame My Future Scholarship Contest 2022 web page. Public voting closes May 20.
---