SXU Drama Presents "The Great Gatsby"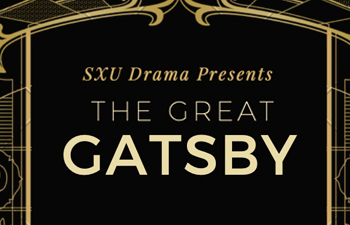 The Saint Xavier University (SXU) Drama Club will present "The Great Gatsby," newly adapted for the stage and directed by SXU students Myah Bawadi, Giuliana Islas and Nuala Hanlon on Friday, April 8 at 7:30 p.m. and Saturday, April 9 at 7 p.m. in McGuire Hall.
Drama club president Bawadi, vice president Islas and secretary Hanlon are long-time fans of the book and movie adaptations and very passionate about telling the classic story. Initially, they intended to license a play, but after finding out "The Great Gatsby" entered the public domain in 2021, they decided to write their version, which takes on a fresh yet familiar feel.
"When we decided to infuse our adaptation of the show with some of the pomp from the movie, it was natural. Each cast member has grown and expanded their take on the characters beyond that of the book and movie. We do a lot of gender-bending in the show, making it both modern yet reminiscent of the 1920s. It is our honor and privilege to bring theater back to SXU!" said Bawadi.
Tickets are free for all SXU students with SXU ID and $10 for faculty, staff and the community (cash only). Tickets are available on a first-come, first-served basis, so arrive early on the evening of the show.
Come and enjoy watching the SXU students grace the stage for this classic tale of love, loss and the prohibition era elite.

"The Great Gatsby" Adapted for the stage and directed by Myah Bawadi, Giuliana Islas, and Nuala Hanlon. Produced by Cyndi Grobmeier and Kristel Flynn. Starring: Lola (LJ) Shoemaker as Jay Gatsby Nuala Hanlon as Nick Carraway Shealyn Scott as Daisy Buchanan Myah Bawadi as Jordan Baker Kayla Krull as Tom Buchanan Giuliana Islas as Myrtle Wilson Luis Gallardo as George Wilson Jack Morgan - Ensemble Melanie Munoz - Ensemble Ellie Andersen - Ensemble Alyssa Caracheo - Ensemble
---