SXU Drama Presents "How the Bear Saved Christmas"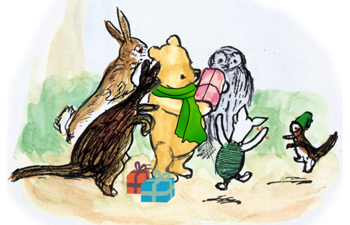 The Saint Xavier University (SXU) Drama Club will host a holiday production, "How the Bear Saved Christmas: a Winnie-the-Pooh Christmas Special," on Monday, December 5, at 5 p.m. in McGuire Hall. The family-friendly Christmas show features Winnie-the-Pooh and friends and their adventures through winter.
The Drama Club is collaborating with the SXU Service Club, American Red Cross Club and Pre-Medical Society to make the production a charity event and are asking attendees to donate unused children's toys, clothes, blankets or canned food for admission. All donations will benefit Ronald McDonald House Charities.
As a club that's still relatively new, their hope for 2022 was to establish themselves as a group that works both for and with the community.
"We are grateful and honored to have the opportunity to partner with the Ronald McDonald House and collect as many donations as we can for families of children in need. It means the world that a little group of actors, volunteers and students can make a real philanthropic difference," said Shealyn Scott, vice president of SXU Drama and director of the production.
After the original Winnie-the-Pooh novel by A. A. Milne entered the public domain this year and was available for use for new concepts, the SXU Drama Club rushed to create something that would be both festive and sweet, with a goal to ignite the holiday spirit.
"Without giving too much away, Winnie-the-Pooh and friends will join together for a series of winter adventures including cookies, snowmen and a jolly old man who goes, 'Ho Ho Ho!' We are all incredibly excited to put on this production and we hope that everyone who joins us will have a holly jolly experience!" said Scott.
For more information, email dramaclubFREEmymail.SXU or visit the SXU Calendar.
---