SXU - A Family Tradition: The Greens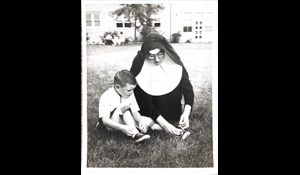 Saint Xavier University (SXU) legacy family Ave '51, Christopher J. '81, Christopher M. '08 and Garrett '13 Green find that SXU was not only instrumental in preparing them for success, but a place they equate with family.
The late Ave, née Hayes, mother of Christopher J. and grandmother of Christopher M. and Garrett, set the path in motion for the whole family when she graduated with honors from Saint Xavier College while it was located at 49th Street and Cottage Grove. She was a lifelong member of the Saint Xavier 49ers Club and credited her mother, Agnes, for instilling in her a strong Catholic background and encouragement to emulate the values of the Sisters of Mercy. Ave was a recipient of the Sister Dorothy Marie Peschon Award in 1984 for her exemplary support of the University. She was former president of the Alumni Association and was known at Saint Xavier for her stalwart personality and boundless energy.
Christopher J. studied biology while at Saint Xavier. After graduating with honors, he decided to follow in his father's footsteps and pursue dentistry. He attended Loyola Dental School and graduated in 1985 and is the owner of Ridge Dental in Orland Park. His father, Dr. John M. Green, provided charity dentistry to countless Sisters of Mercy, Dominican Sisters, priests and clergy throughout the Chicagoland area.
While at SXU, Christopher J. went on field trips to the Argonne National Lab, studied primate behavior at Brookfield Zoo, and took trips to Costa Rica and Hawaii. He'd often play pickup basketball between classes with members of the football team. He started the SXU Hockey Club along with some other students in 1979 and was part of the first group of students commissioned by Dr. Stan Boyer to dissect and study the college's first human cadaver.
"Saint Xavier was instrumental in my professional formation. My time there taught me how to think critically in an independent manner with purpose and passion and work with a group of colleagues toward a common mission of growth and success," said Christopher J. "The bio and chemistry students were a cohesive group of individuals who could work positively together, benefiting from the small class sizes."
Christopher M. studied biology at SXU and graduated summa cum laude. He was a member of the Honors Program and vice president of Tri Beta. After graduating, he attended the Temple University Kornberg School of Dentistry and worked in his father's dental practice for two years before moving to Colorado and opening his own dental practice, Green Dental Care in Parker, Colo. The practice has over 700 5-star Google reviews and nearly 4,000 patients. Christopher M. has co-authored "The Practice Launchpad," a book to help dentists navigate the complexities of dental practice ownership. He has also, along with several other dentists, started an acquisition coaching program which helps young dentists pursuing dental practice ownership. Like his father, Christopher M. was also a fan of Dr. Stan Boyer and enjoyed joining him and a small class group on a trip of Costa Rica during his freshman year at SXU.
"SXU allowed me an opportunity to explore a variety of courses with professors of all different backgrounds and viewpoints. I recall history and philosophy classes as much as human anatomy because the professors were all so great at what they do. The wide breadth of courses I was able to experience opened my mind to different ways of thinking and prepared me for an ever-changing world. My favorite part about attending SXU was the memories I created with peers, who were friendly and supported each other, and professors, who were invested in my growth and success," said Christopher M.
"SXU is a supportive community that provides a really great education at a reasonable cost. College was a transitional period of my life where I really started to find my purpose and learn about myself. I recall developing quality study and exercise habits, becoming more independent and honing my self-leadership skills, meeting new people and interacting with professors who spoke to me as though I were a peer. SXU provided me opportunities I would not have had at a larger school where students are treated more as numbers than they are people," Christopher M. continued.
Garrett studied biology and secondary education at SXU. After graduating, he taught high school for several years and is currently a naval officer (NCIS) stationed in Quantico, Va. He enjoyed helping his students find their life paths. He was a member of Tri Beta at SXU and often spent time with his peers in the SXU Diner between classes. Garrett was very appreciative of former SXU professor Joseph Dertien, Ph.D., who taught him that feelings are not scientific evidence and everything must be backed up by concrete data or facts. Garrett plans to continue serving in the Navy and eventually move to Colorado to be closer to his brother.
"SXU provided me with a strong analytical background through scientific study. It has allowed me to thrive in my job with the Navy," said Garrett. "I am happy to see that SXU has continued its growth in Chicago and across the country while bolstering its international attraction."
Both Christopher M. and Garrett credit their father and grandmother for being instrumental in their pursuit of higher education. The Greens find that SXU signifies family for them, and they are thrilled to be part of its history and help to advance the mission.
"To be a legacy family is a neat thing. SXU has a rich and impressive 175-year history. At the core of the history is the supportive community, which embodies and respects every individual. When you attend SXU, you know you are a part of something bigger than yourself," said Christopher M.
"SXU means strong traditions based on Mercy, growth and diversity. My grandmother was a very devout Catholic and SXU grad. She instilled in me and my siblings the values we have used to succeed in life, the same time-tested values presented by the SXU community at large. The future of SXU looks bright as we strive to reach the 200-year milestone," added Garrett.
"As part of a legacy family, SXU has enhanced our lives through three and part of four generations. It has been a symbiotic relationship through the years of giving and getting back. SXU has epitomized what is good in people and what can be achieved through higher learning. Its value system has endured all these years through a common bond to advocate for change by advancing society to a better tomorrow," said Christopher J.
---