SXU - A Family Tradition: The MacDonald Family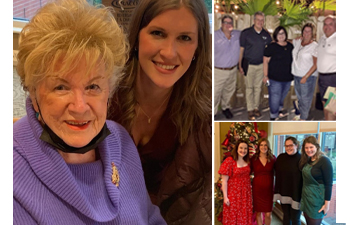 Saint Xavier University (SXU) legacy family Therese MacDonald Boyle '87, Claire Boyle '10, Anne (Dixon) Brown '13 and Elizabeth MacDonald '22 are proud to be part of an extensive family network of SXU attendees.
Therese graduated in 1987 with a master's degree in education. After graduating, Therese gave 35 years of service as a teacher and school psychologist with Chicago Public Schools (CPS) and retired in 2018. During her time with CPS, she supported the academic and social-emotional needs of students and families in some of Chicago's neediest communities, which she found very rewarding.
Claire graduated from SXU in 2010 with a bachelor's degree in early childhood education and is a first-grade teacher for CPS. She enjoys being one of the first teachers students have and loves that they are so eager to come to school to learn academically and socially.
Anne graduated from Saint Xavier in 2013 with a master's degree in multi-categorical special education. She currently works as a special education teacher for CPS, which she describes as her dream job. She educates students with severe and profound disabilities, focusing on teaching life skills to help students be independent in their activities of daily living. She has a full working kitchen in her classroom and helps students make "Ag Wag" dog treats, which are sold to the school community with proceeds going toward Special Olympics uniforms for students.
Elizabeth will graduate in 2022 and is studying biology. She currently works as a physical therapy technician and has developed a strong sense of service and compassion, a critical component of working in health care. She is grateful to make an impact on patients' lives.
All four find that their time at SXU prepared them well for success.
"My Mercy-focused, liberal arts education was the foundation that moved me to be involved in the greater community. After I retired, I remained active as a board member at the United Credit Union and I am an elected Chicago Teachers Union delegate. I have joined the Retired Teachers Association of Chicago and hope to be a pensioner trustee for the Chicago Teachers' Pension Fund," said Therese.
"SXU prepared me for my career as a teacher by giving me many opportunities to observe many different classrooms in a variety of settings. I walked into my classroom feeling ready to teach my first class of students," said Claire.
"SXU was the obvious choice when I decided to pursue a master's degree. As a graduate of Queen of Martyrs School, Mother McAuley Liberal Arts High School and St. Ambrose University, I knew I would continue my education at a Catholic institution. SXU faculty and staff prepared me for the classroom by teaching the latest research-based teaching strategies while instilling SXU's core values. In the field of special education, a sense of compassion for students and their families is what draws teachers in and keeps them coming back day after day," added Anne.
"I chose to attend SXU because I knew that so many of my family members have been very successful in life after graduating," said Elizabeth.
The four have fond memories of time at Saint Xavier, like participating in the Cougar 5K, attending concerts and fireworks shows, going to Gilhooley's after class, and taking a family picture on the steps in front of the Warde Academic Center. They especially appreciated the faculty and staff, who they found knowledgeable, helpful, welcoming and supportive.
Their experiences, individually and as a family, contributed much to their growth and success.
"SXU's greatest strength is its willingness to work with students to solve problems. There is a close community feel to the University that makes it a comfortable place. Being a legacy family means we have shared experiences of achieving success through our SXU education, which we can continue to pass down to future generations of the MacDonald clan," said Therese.
"I am proud to be part of an SXU family. So many of my family members are who they are today because of their time at SXU," added Anne.
---