SXU - A Family Tradition: The Sweis Family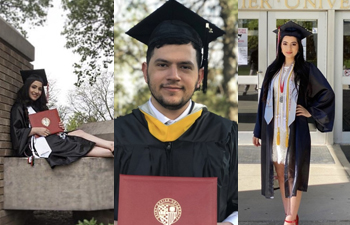 In celebration of 175 years of Mercy education, our Legacy Family series honors the generations of families committed to advancing the SXU mission.
Saint Xavier University (SXU) legacy alumni family Deanna '16, Majed '17, '18, and Denah '21 Sweis are on bright paths to success, and their journeys started at SXU.
Deanna earned a bachelor's degree in communication sciences and disorders with a minor in psychology in 2016. After graduating from SXU, she went to graduate school and earned a master's degree in speech-language pathology. She received the Denise LaBianca Scholarship and Outstanding Graduate Student Award from the South Cook County Speech Hearing and Language Association. After graduating, she became certified in clinical competence and received her ISBE Professional Educator License with an endorsement in speech-language pathology.
Deanna was drawn to study communication sciences and disorders after her loving grandfather suffered from a stroke and dementia, which impacted his ability to communicate and swallow safely. Watching a speech-language pathologist care for her grandfather ignited her desire to give back to others and learn about the field. She appreciated how diverse the field was and feels that the relationships she developed with professors, the coursework, and the clinical experience at SXU helped her grow academically and professionally.
Currently, Deanna works at a middle school, where she supports a variety of students with diverse needs and implements speech-language therapy for students with speech-language disorders, autism, Down syndrome, learning disabilities and other health impairments. She also works part-time at an outpatient pediatric clinic where speech-language, occupational and physical therapy services are provided. Deanna's clinical interests include orofacial myology, multiculturalism and bilingualism, support for individuals with communication difficulties, pediatric dysphagia, and language development.
While at SXU, Deanna received the Hassan (Husni) and Safia Haddad Peace Award and Scholarship, given annually to a student who prepares the best essay on the pursuit of peace. She was also involved in the National Student Speech-Language-Hearing Association (NSSLHA), serving as president and secretary. Deanna also helped to start the NSSLHA Student Mentor Program at SXU. She greatly enjoyed her time at the University.
"SXU helped pave the way for my career. From the coursework to the professors and clinical experience at the Ludden Speech and Language Clinic, I couldn't have asked for a better heard start to my career. All my professors at SXU were excellent and always had a door open to provide advice during a very challenging journey. When you have mentors, especially those like Ibtisam Rahima, who have passion for what they do, it becomes contagious!" said Deanna.
Majed earned a bachelor's degree in computer science in 2017 and returned to earn a master's degree in applied computer science in 2018. After graduating, he worked for SXU's Information Technology Department before joining Visa as a senior software engineer. Currently, he works at Square as a software engineer.
Enamored with technology since he was a child, Majed was drawn to study computer science. He finds his career building software to empower merchants around the globe as fulfilling as it is challenging, and he enjoys making a large impact on people's lives. He's grateful for his time at SXU, which was pivotal to his growth.
"My time at SXU provided invaluable personal and professional growth, largely in part due to the lovely community. I also appreciated working with IT Client Services – Dr. Rola Othman and her team have been both mentors and friends to me over the years," said Majed.
Denah graduated from Saint Xavier with a Bachelor of Business Administration with a concentration in digital marketing in 2021. After graduating, she took the Law School Admissions Test (LSAT) and applied for law school, which she will start this fall at Chicago-Kent College of Law. She's grateful for the preparation she received from SXU.
"My time at SXU prepared me in so many ways. The phrase 'Calling All Doers' is the driving force at SXU. It's a call to students to take what they learn at SXU and use it for the good of the world. I've learned this from SXU and am therefore constantly working hard and pushing through boundaries to make this world a better place. I may have graduated, but I will represent SXU forever," said Denah.
Denah has plenty of great memories from her time at SXU, including decorating the Shannon Center during the holidays, where she also served as a student worker, volunteering for Fire Up a Cure to help fight pediatric cancer, participating in the annual Cougar 5k, and her work with several organizations on campus including Women Entering Business, Students for Justice in Palestine and the Political Science Forum.
The Sweis family are big proponents of the Saint Xavier mission.
"The Mercy mission and its spirit has been profound. I continue to integrate the Mercy mission into my life with compassion to support human dignity and the common good. I aim to help those who may be underserved or overlooked. Being a speech-language pathologist is all about supporting and giving back to others, and my SXU education was a great example of that," said Deanna.
"SXU's Mercy mission is incorporated into my daily life in different ways. I am always thinking critically and communicating effectively. I serve others wisely and compassionately. The Sisters of Mercy have played an inspirational role in my decision to pursue law school, in hopes to be a voice and advocate for women, immigrants and anti-racism," added Denah.
In the future, Denah looks forward to pursuing her Juris Doctor and passing the Illinois Bar Exam, Deanna looks forward to continuing education and participating in professional conferences, and Majed plans to continue to progress within his tech career. The family is thankful that their journeys began at SXU and are thrilled to perpetuate excellence into their futures.
"SXU played a huge role in my life and career. I am a first-generation college student, so it not only makes me proud, but it also makes my parents, who worked tirelessly to provide their children the best education, proud. We are proud to be a part of SXU's history and we hope to continue the mission of Mercy and SXU legacy," said Deanna.
---