/
/
/
SXU Graphic Design Student Earns Outstanding Project Award at Research Expo
SXU Graphic Design Student Earns Outstanding Project Award at Research Expo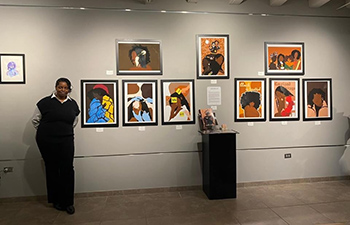 Recent Saint Xavier University (SXU) graduate Tatyanna Taylor '22 received an award for Outstanding Project at the 2022 Research Expo. Taylor's project, meant to spread awareness of one's reality, is titled "Besides the Color of My Skin, Who Am I?"
Taylor's research covers the recent hearings and protests of the racial injustice against Black men and women.
"I was moved to express my own outrage at the silencing of Black voices and eagerly pick up the African American studies minor. This minor covers all aspects of the Black experience regarding history, culture and politics, which I've found fascinating. It explores how our very existence continues to be seen as inferior, especially in health care, education, public service and business areas. Despite this, this research is my identity – an open opportunity to figure out who exactly is Tatyanna Taylor," said Taylor.
To Taylor, winning the award for outstanding project felt surreal.
"I'm elated that my art has spoken to those within and outside my community. This award had further boosted my self-confidence, telling me it's okay to be vulnerable and more inclusive when exhibiting my art. I've done what I always wanted, which is to spread awareness of one's reality," said Taylor.
Taylor majored in graphic design with a minor in African American studies. She chose to major in art because she didn't have an interest in the traditional undergraduate majors, nor did she wish to pretend to be someone she was not. Since she was a child, she's always enjoyed drawing and having her pieces posted on the refrigerators, bulletin boards and walls of family members. She was drawn to SXU's Visual Arts Center because of its resources.
"Now, art serves as my second form of communication, where I know how to best display my Black illustrations and lay down some knowledge to underclassmen," said Taylor.
Taylor appreciates that her time at SXU helped her to prepare for a career in art, especially her courses that covered graphic design, typography, computer graphics, business of art and writing for artists. She's found her professors to be knowledgeable and prone to sharing real-word experiences to prepare students for the competitive art field. She is especially grateful for her relationships with the Student Success Program (SSP) Visual Arts Center faculty, Dr. Daniel Davis and Professor Vincent Alexander.
"The knowledge they share is helpful and considerate when transitioning to the workforce, as there is no instructional guide to becoming successful or financially stable. Fortunately, a degree in graphic design opens the door to a range of creative careers, so taking these classes helped me gain experience on where to start and how to uplift. Dr. Davis was influential in building that passion for learning all there is to African American historical culture," said Taylor.
As an art major, Taylor finds it important to participate in various exhibition shows to help prepare for marketing her work and gaining knowledge on the art industry. Her senior project became part of her exhibition in the SXU Gallery, which she found as a great opportunity to decide what works and what doesn't, meet and connect with potential clients, and get accustomed to public speaking with a more diverse crowd.
While a student, Taylor was a member of Emerging Scholars, TRIO and the Artbreakers Art Club, where she served as secretary and social media coordinator. She enjoyed meeting people of different characters, backgrounds, religions and ethnicity during her time at SXU. She also participated in the Spring Break Service Trip and went to Jerusalem Farm in Missouri, where she helped paint a house, pull honeysuckle, sand and stain new wooden floors, garden, cook, clean and more. She loves helping others and giving back.
In the future, Taylor plans to "let nature take its course." She'd like to build an online shop to sell her prints and turn them into t-shirts, posters, stickers, home décor and more.
"All in all, my goal is to do what it takes to continue with my conscious art as an upcoming conscious artist," said Taylor.
---