SXU Holds 2022 Cougar Trax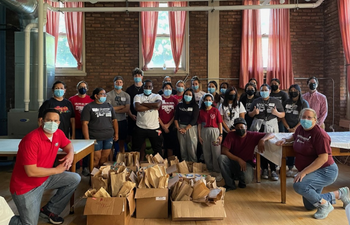 Saint Xavier University (SXU) welcomed incoming students to campus last week with annual traditions Cougar Trax and New Student Induction.
Each year, first-year students are welcomed to Saint Xavier with New Student Induction, a ceremony that symbolizes their membership in the SXU community and the beginning of their academic careers. SXU President Laurie M. Joyner led the campus pledge along with faculty and staff who will support students along their journeys. Faculty and staff dressed in full regalia and bagpipes played as students walked through SXU's historic 49th Street Gateway Arch, a symbol of the institution's longstanding history in Chicago. Students learned about Saint Xavier's Mercy heritage and enduring mission and connected with the peers who will call the University home for the next several years.
Cougar Trax, held August 18 and 19, is a two-day program that offers learning opportunities, fun and social gathering. This year, students got the opportunity to participate in various service projects in the spirit of Mercy and in line with Saint Xavier's mission. Students worked for the Ronald McDonald House and Champ's Kitchen, the on-campus food pantry, participated in campus cleanup, created cards for children at La Rabida Hospital, wrote letters for residents at Mercy Circle, and went off-site to do work at Lake Katherine, Hope Center, Port Ministries and the Greater Chicago Food Depository.
"For many months, our team planned our first-ever campus-wide service project for all first-year students, where they worked alongside their Transitions instructors and classmates. In each activity, students, staff and faculty lived out the true measure of Saint Xavier University's mission, 'serving wisely and compassionately in support of human dignity and the common good.' By participating, they began to understand the charism that inspires all of us and calls upon us to find our purpose," said Gina Rossetti, Ph.D., interim dean of the College of Arts and Sciences.
Students also gathered for the Involvement Fair to learn about ways to get involved on campus, participated in a success coach session, and celebrated at First-Year Fest in the evening.
SXU was proud to welcome new students to campus and looks forward to their bright futures ahead!
---