SXU Holds 2022 EXPLORE STEM Summer Research Symposium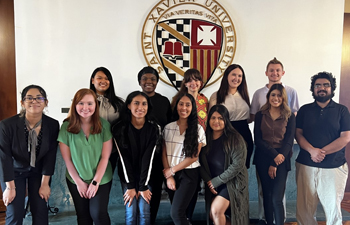 Saint Xavier University (SXU) recently held the EXPLORE STEM Summer Research Symposium. Undergraduate students, faculty, staff and families joined together to celebrate the hard work students completed during the 2022 EXPLORE STEM Summer Research Fellowship. The program is supported by a grant from the National Science Foundation (No. 1832511).
The fellowship consists of eight weeks of work for students working on campus under the guidance of faculty and 10 weeks of work for those who complete their fellowships off-site. Students are paid stipends for their work and completed projects involving 3D printing, breaking down the components of popular perfumes, examining the heavy metals in baby food, examining behavioral responses of monk parakeets to auditory stimuli, and other projects focusing on the disciplines of biology, chemistry, computer science and psychology.
Summer research benefits students by giving them a competitive edge for graduate school applications and providing them with hands-on experience working within a STEM industry. Some students completed their fellowships at Daubert Cromwell Laboratory and the National Argonne Laboratory. The experiences helped students to more deeply consider what they may want to pursue in the future with their STEM degrees, a major goal of the grant.
"In just eight to ten weeks, the students made remarkable progress on their research projects. In most cases, students started their research in June and by August, they had results to present. I am so proud of the students and their accomplishments," said Julia Wiester, Ph.D., principal investigator of EXPLORE STEM and Chemistry Department chair.
"Students have shown such dedication to their work over the summer. From coming up with their hypotheses to creating their posters, they have all learned and shared their exciting discoveries. They continue to inspire their peers to get involved and work hard toward their goals and we couldn't be prouder of their accomplishments!" added Marina Martínez, NSF-HSI grant program director.
Students enjoy many components of the fellowship, especially being able to complete a project from the brainstorming stage to presenting their findings to an audience. It's an excellent opportunity for students to gain experience in completing scholarly work.
"I think what I enjoyed most about the fellowship was being able to go to Notre Dame and explore all the technology we used as well as the facility itself. It was such an amazing experience to develop knowledge, meet spectacular people and present my own project that I worked hard on with the help of my mentor, Dr. [James] Kiddle," said Gabriela Milon, a biochemistry major.
"I want to go to pharmacy school, so having the opportunity to think analytically and complete hands-on work is what is going to help me excel in my future endeavors. Ultimately, I believe this fellowship gave me an idea of what I could potentially be working on in the future, which is very important to me," added Lisa Doan, a chemistry major.
The EXPLORE STEM program helps students develop identities as scientists, infusing both preparation for graduate school as well as connecting students with career opportunities and opportunities for field-based, hands-on experiential learning. To learn more, visit the EXPLORE STEM webpage.
---