SXU Holds 2022 Estrellas de SXU Latinx Achievement Awards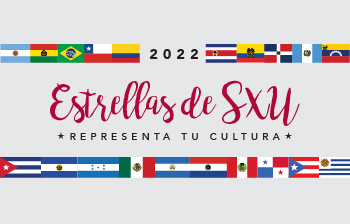 Saint Xavier University (SXU) recently held the annual Estrellas de SXU Latinx Achievement Awards on October 15 to honor outstanding Latinx students, faculty and staff for their efforts in academia and leadership.
"We are proud to be a Hispanic-Serving Institution and enjoy opportunities to spotlight the contributions of leaders in our diverse learning community while elevating their cultures and commitment to excellence," said SXU President Laurie M. Joyner, Ph.D. "I was impressed with the range of educational and cultural events that comprised Hispanic Heritage Month, culminating in Estrellas de SXU."
The first award, the Undergraduate Academic Star, was given to Marcia Reyna Farje. The award recognizes an undergraduate student who has excelled academically and demonstrated endurance at Saint Xavier. Farje was recognized for being an excellent student who is devoted to academics and service.
The next award, the Graduate Star, was given to Issac Torres. This award recognizes a graduate student who has demonstrated exceptional involvement within their organization, campus and the community. Torres, also the residence life coordinator, was praised for being dedicated, hardworking and always cheerful.
The ALPFA Star award was given to Stephanie Galvez, recognizing a student who demonstrates the spirit of service to SXU and their community and exhibits outstanding leadership and perseverance. Galvez, the president of ALPFA (Association of Latino Professionals for America) has exemplified leadership within the Latinx community.
The STEM Star award, given to a student who has been an active member within the SXU community promoting STEM academics and excelling academically, was awarded to Annabel G. Lopez. Lopez, a computer science major who holds a 4.0 GPA, exemplifies resilience, motivation and persistence.
The Student Service Star is awarded to a student who demonstrates a spirit of service to SXU and their community. The award was given to Alyssa Gonzalez, who is a nursing student and has served as a supplemental instruction leader and peer tutor in the Learning Center (and is a favorite of students!).
The award for Spirit Star is given to a student who exemplifies the mission and identity of SXU and shares their Cougar spirit with the community. The award was given to Evelyn Martinez, the founder and president of the Women in Business organization, an orientation leader, and a member of RHA.
The Staff Star award is given to a staff member who advocates, supports and instills values in SXU students. Imelda Macias, Title V director, received the award for her support of students and drive to get families involved at the University.
The award for Faculty Star is given to a faculty member who works effortlessly to ensure students have the necessary tools and knowledge to go forward and make considerable contributions in and outside of SXU. The award was given to Diego Espina-Barros, chair of the Language and Literature Department, whose dedication, authenticity and hard work helps students to succeed academically.
Congratulations to the incredible recipients of the 2022 Estrellas de SXU Latinx Achievement Awards, whose consistent contributions to the SXU community help to continue a tradition of University excellence.
---