SXU Holds 2022 Mission Awards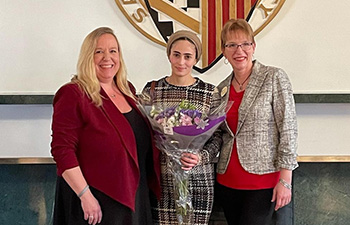 Saint Xavier University (SXU) proudly held the annual Mission Awards on March 23, both Mission Day and We Are SXU Day. Mission Day spotlights the University's core values of service, excellence, hospitality and integrity through the presentation of three service awards to individuals who exemplify these values. Award recipients are selected by committees of their peers from nominations submitted by members of the University community.
The Mother Paulita Morris, R.S.M., Student Mission Award recognizes a student whose exemplary service and leadership, both at SXU and in other educational, civic and religious communities, have embodied the University's core values and its Catholic, Mercy mission in ways that contribute to making SXU a better place to grow and learn.
Nada Alaraj, a senior biochemistry and exercise science major, was the 2022 award recipient. Alaraj has a 4.0 GPA and serves as president of the Student Government Association (SGA) and is a medical assistant for Southwest Medical Associates. Alaraj also serves on a number of search committees for high-profile positions at SXU, including the recent search committee for provost. Alaraj is a mentor and role model for other students, regularly assisting her peers in academic and cocurricular matters and volunteering for Big Brothers Big Sisters.
"Being the recipient of the Mother Paulita Morris Student Mission Award is such an honor. It really means a lot because of what this award is built on. To be recognized among the recipients from previous years and years to come is an incredible feeling," said Alaraj.
The Sister Isidore Perrigo, R.S.M., Staff Mission Award recognizes a staff member whose service to the University community has embodied the University's core values in ways that contribute to making SXU a better place to study and learn.
Maggie Eaheart, chief of staff, was the 2022 award recipient. Known for being a "walking encyclopedia of SXU," Eaheart is involved in all campus initiatives and serves them with compassion, expertise and professionalism. An alumna of the University, Eaheart has held many roles at SXU and had exemplified service excellence in all of them. Eaheart's tireless dedication to SXU, commitment to students, and continual spirit of excellence, professionalism and mission-centered work makes her invaluable to the University.
"I am truly humbled and honored to be recognized among so many good people who share in the call to steward the Mercy mission, and have -in word and deed- lived the values we cherish. I seek inspiration from Mother Agatha and see her as a model of the way to live the mission. It is incumbent upon us to roll up our sleeves and do the work of helping others rise, so that the mission may live well beyond our time," said Eaheart.
The Saint Xavier University Faculty Mission Award, which recognizes a faculty member who, through teaching, scholarship and service, has furthered the mission of the University and who has consistently embodied the University's Catholic and Mercy identity by "serving wisely and compassionately in support of human dignity and the common good."
Cyndi Grobmeier, the 2022 recipient, is a professor of communication and also a Saint Xavier alumna. She is co-producer of a radio show for WXAV focused on improving student learning and achievement in the classroom and has worked to develop new courses on social media and create robust online communication offerings. She recently served on a cohort of faculty who presented high-quality research on cultural competencies in the classroom through a partnership with ESCALA Educational Services. She is president of the Maddog Strong Foundation, which honors her late daughter, Maddie, and encourages organ donation advocacy. She is committed to making her community a better place.
"I was honored to be recognized with Maggie and Nada for this year's mission award because we are all (or are soon to be) SXU alumni, which speaks volumes about our community - that so many of us remain committed to the strong foundation the Sisters of Mercy laid over 175 years ago. Every day I see so many of my colleagues demonstrating compassion and respect, serving others, and inspiring a desire for lifelong learning, so to be recognized for my commitment to our mission is perhaps the most meaningful award anyone can receive," said Grobmeier.
Prayers and mission reflections were offered and the community was bursting with pride for the community members who exuberantly live the Saint Xavier mission.
"I was ecstatic to join together in person to celebrate three of our most incredible and mission-driven campus leaders. This ceremony allows us to recognize and celebrate those among us who have distinguished themselves by the quality and consistency of their service to the mission of Saint Xavier within and beyond the bounds of our campus community," said President Laurie M. Joyner, Ph.D.
---