/
/
/
SXU Honors Students, Faculty and Staff at Eighth Annual African American Achievement Awards
SXU Honors Students, Faculty and Staff at Eighth Annual African American Achievement Awards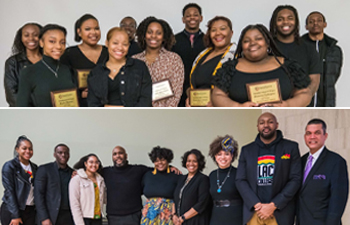 Saint Xavier University (SXU) recently honored faculty, staff and students at the eighth annual African American Achievement Awards, which recognize the contributions and achievements of the African American community at SXU, all of whom demonstrate exceptional brilliance and dedication to excellence.
This year, the theme of the awards was "Moving Forward Together." The event opened with singing of the historical "Lift Every Voice," the Black National Anthem, a symbol of where African Americans have come from and how far they must go as a nation. Student Gillian Clottey sang the anthem.
The Black History Month Committee, comprised of Alison Chandler, AVP of Strategic Enrollment Management and Student Success; Jacqueline Griffin, associate director of Financial Aid; Vincent Davis, professor of communication; Melvin Cornelius, chief of Public Safety, Shavonn Nowlin; associate director of Residence Life; Ken Alston, associate director of Athletics; and Ashley Jackson, director of Campus Life, presented the awards.
"These awards highlight the promise and potential of Saint Xavier's Black and African American students, faculty and staff in advancing our Mercy mission through their leadership, activism and contributions to positive social change on campus and beyond. I commend their extraordinary achievements. Their accomplishments shine brightly, serving as beacons of hope and encouragement for all in our community," said SXU President Laurie M. Joyner.
2022 African American Achievement Award Recipients:
The Freshman MVP Award is given to two first-year students who have gone above and beyond in their leadership and campus involvement.
Award Recipient: Johnetta Washington
The Sophomore MVP Award recognizes two outstanding sophomores who have demonstrated exceptional leadership involvement within their organization, on campus and in their communities.
Award Recipients: Mia Cox and Matthew Chavers
The Junior MVP Award honors two junior students who are dedicated to service and leadership on and off campus.
Award Recipients: Corrie Floyd and Kayla Thomas
The Senior MVP Award commends two outstanding seniors for their incredible leadership on campus and within their communities.
Award Recipients: Tim Jones and Jazmine Jean-Simon
The Graduate MVP Award recognizes two graduate students who have demonstrated exceptional leadership and involvement on and off campus.
Award Recipients: Jeffrey Mayberry and Charmaine Rowland
The Outstanding Student Leader Award honors two individuals who have made significant, valuable contributions to campus through their positions of leadership.
Award Recipients: Alexus James-Anderson and Kyla Turner
The Outstanding Student-Athlete Award is given to a student-athlete who makes contributions through leadership both on and off the field.
Award Recipients: Josh Evans and Peyton Gibson
The Outstanding Staff Award recognizes two invaluable staff members who offer support and guidance to the Saint Xavier community through exceptional leadership.
Award Recipients: Ashley Jackson and Haendel Soliman
The Outstanding Faculty Award honors two faculty members who give back to the Saint Xavier community through their knowledge and expertise.
Award Recipients: Paris Davis and Vincent Davis
Saint Xavier is immensely proud of the award recipients and their outstanding contributions to the University community and looks forward to watching them continue to thrive and inspire future generations of students.
---