SXU's Ludden Speech and Language Clinic Offers Aphasia Support Group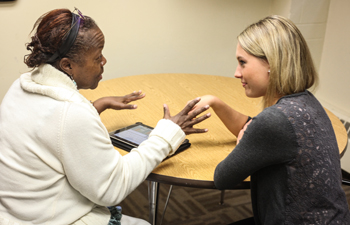 The Ludden Speech and Language Clinic at Saint Xavier University (SXU) has started an Aphasia Support Group and will offer telehealth sessions the first Wednesday of every month from 4 to 5 p.m. beginning Wednesday, February 2. Aphasia is a language disorder that occurs after a stroke or head injury and can impede the ability to communicate.
The goal of the group is to connect individuals who are living with aphasia, as aphasia can be a very isolating disorder. The group will serve as a comforting, supportive and safe space for people who are living with the same condition to relate to and communicate with one another. The group will provide support, education on aphasia, ways to reduce barriers from the impairment, socialization, fun activities and more.
Graduate students in SXU's Communication Sciences and Disorders Program will plan and run the group under the supervision of a clinical supervisor. They will gain experience in providing therapy to individuals with aphasia, learn more about aphasia, gain a better understanding of how aphasia impacts their clients' lives, and build skills that will enhance their ability to connect with clients.
"I am excited that the Ludden Speech and Language Clinic is offering a way to bring individuals with aphasia together to learn from one another and allow our clinicians to learn the importance of providing meaningful experiences and connections for their clients. It is important that speech-language pathologists understand how aphasia impacts the lives of clients beyond the therapy room," said Carry Zaras, clinical supervisor and assistant lecturer.
The Aphasia Support Group joins the other two groups offered at the Ludden Speech and Language Clinic, the Stuttering Support Group and Laryngectomy Support Group. Anyone living with aphasia or caring for loved ones with aphasia is welcome to join the group. For more information, contact Zaras at 773-298-3559 or zarasFREESXU.
The Ludden Speech and Language Clinic is open to the public for speech therapy services across the lifespan. All services are free with no referral required. For more information, email luddenclinicFREESXU. Learn more about SXU's Communication Sciences and Disorders Program on the SXU website.
---