SXU Mourns the Loss of George Ferrell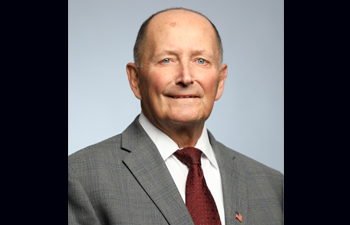 Saint Xavier University (SXU) mourns the loss of George W. Ferrell, a cherished member of the SXU community for nearly 50 years. Along with his company, Henry Bros. Co., Ferrell was among Saint Xavier's most generous lifetime donors and supporters, and his long and valued relationship with SXU has left an unforgettable mark on the institution.
A humble man with a solid work ethic, Ferrell began his work at Henry Bros. Co. as an estimator after graduating from Marist High School in 1967. Ferrell served for the United States Army in Vietnam from 1970 to 1972 and was a proud veteran. Upon his return, he resumed his work at Henry Bros. Co., where he remained for his entire 55-year career. In 1987, he became business partners with William H. Callaghan Jr. and served as president of Henry Bros. Co. until his passing.
Ferrell's relationship with Saint Xavier began during the 1970s while his younger brother, Richard, was a student and aspiring baseball player. Tragically, Richard passed away at a young age in 1976. SXU's baseball field, the Richard R. Ferrell Memorial Field, was named in his honor. Ferrell remained close to the late Sister Denis O'Grady who had known his brother well.
Ferrell, of strong Catholic faith, was a great supporter of SXU's mission to educate and serve the underserved. He also developed strong and enduring friendships with Sisters Sheila Megley and Sue Sanders.
In 1997, there was a construction boom at Saint Xavier. Many of the institution's most cherished buildings, including the Shannon Athletic and Convocation Center, McDonough Chapel, Rubloff Hall, McCarthy Hall, Morris Hall and O'Brien Hall were constructed by Henry Bros. Co. They've done extensive renovations around the campus, including at the Driehaus Center, Robert and Mary Rita Murphy Stump Library and more. Henry Bros. Co. also constructed SXU's Orland Park campus, which served the community from 2003 to 2018.
In the summer of 1997, SXU held its inaugural Golf Classic, and Henry Bros. Co. has chaired the event since. Both Ferrell and co-owner Callaghan believed strongly in SXU's educational mission and have been pleased that Henry Bros. Co could raise funds for student scholarships through charitable support and event scholarships.
In 2013, Henry Bros. Co. received the Shield of Saint Xavier, SXU's highest honor, at the annual President's Scholarship Ball. Henry Bros. Co was honored for their support of SXU's mission of academic excellence and social concern and for their demonstrated commitment to service.
"Henry Bros. Co. has been a valued partner and generous supporter of Saint Xavier for three generations. Under George's leadership, Henry Bros. continued to solidify its longstanding championship of our Mercy mission. We cherish the fond memories of George and his team as they worked to beautify our campus, participated in our annual Golf Classic and interacted with our community. Saint Xavier has lost a dear friend and strong advocate," said President Laurie M. Joyner, Ph.D.
SXU is incredibly thankful for Ferrell's generous support over the years. His legacy will live on with the institution's continued partnership with Henry Bros. Co. and in the beautiful construction that enhances campus life.
---