SXU Named a 2022 Military Friendly® Gold School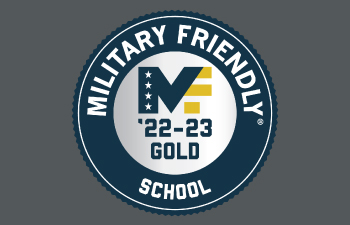 Saint Xavier University (SXU) has been named a Military Friendly® School by Military Friendly® for the third year in a row, and for the 2022-2023 year, the University has earned Gold status! Only 15% of the 1,800 schools selected earned Gold status, designated to schools who have leading practices, outcomes and effective programs. Military Friendly® is an organization whose standard measures, investigates and identifies institutions whose commitment to serving the military and veteran community creates sustainable and meaningful opportunities for them. The 2022 Military Friendly® Schools list is more exclusive than ever.
"We are very excited to consistently earn this designation, especially this year's prestigious status! It shows the work we do to serve our population of military-connected students is important. It also drives me to find more ways to serve and connect with them. I am grateful for my colleague Jacqueline Griffin, associate director of Financial Aid, who is a vital component to our success. The SXU community will continue to work together to ensure our commitment to our student veterans and their families," said Gricelda Gonzalez, veterans compliance advisor.
Saint Xavier is committed to serving veterans and assisting with their transition to college. Veteran students are provided with resources to help them achieve their educational goals. SXU is also a proud participant of the Yellow Ribbon GI Education Enhancement Program, which helps to fund qualified student veterans' tuition expenses.
The SXU Student Veteran Alliance (SVA) advocates and assists SXU student veterans and their families by promoting camaraderie through community outreach and social support and by committing to academic and professional success. SVA holds regular meetings and hosts events, including bake sales, toy drives and an annual veterans' breakfast on Veterans Day for SXU student veterans and supporters.
In 2021, SXU held a dedication for the campus's Veterans Memorial, a site that honors the military branches of the United States and veterans who served the nation. In 2020, SXU's National Alumni Board launched the Valor Project, a program designed to support student veterans and their dependents by providing financial support for books, supplies, transportation costs or assistance for emergency situations.
"We are proud to receive this designation for the third year in a row, which signifies Saint Xavier's long-term commitment to student veterans. Our diverse learning community is strengthened by the experiences and perspectives of those who have served in the military, and we will continue to grow our efforts to assist student veterans in effectively transitioning to college. I thank our veterans and the staff and faculty that serve them for their dedication to Saint Xavier and to one another," said SXU President Laurie M. Joyner, Ph.D.
To learn more about SXU's commitment to serving student veterans, resources and programs, admission, and support services, contact Veteran Admission at 773-298-3502 or vets@sxu.edu.
About Military Friendly® Schools
The 2022-2023 Military Friendly® Schools list is prestigious, comprehensive in scope and assessed through evaluation of both public data about the institution and proprietary data gathered through surveys. Based on extensive research, the methodology, criteria and weightings for the survey are high standard and assess the institution's ability to meet thresholds for student retention, graduation, job placement, loan repayment and loan default rates for veteran students.
About VIQTORY
Military Friendly® is owned and operated by VIQTORY, a service-disabled, veteran-owned small business that connects the military community to civilian employment and educational and entrepreneurial opportunities.
---