SXU Nursing Alumna Spends Life Serving Children in Need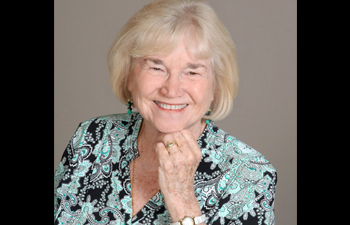 Saint Xavier University (SXU) nursing alumna Patricia Kiefer '66 has devoted her life to the underserved, especially children, and she plans to continue her efforts for many more years. Kiefer has exhibited the core value of compassion in all her work, a necessary trait for any nurse.
Kiefer has worked a broad variety of jobs in the service field. She began her career as a nurse's aide at Mercy Hospital in Elwood, Indiana during high school. She attended Saint Xavier to earn her bachelor's degree in nursing, worked several years as a nurse in the U.S., then traveled to Africa, where she spent four years in Ghana, two years in Sudan, and one year in Kenya teaching African mothers about health and nutrition for their children under five years of age. Kiefer opened the Catholic Relief Service Office in Khartoum, Sudan before returning to the U.S. to earn a master's in public health at John Hopkins School of Public Health. She also studied theological studies at Georgetown University.
In her work in Sudan, she helped to rehabilitate ill and malnourished children. She helped the nurses who cared for the children, providing food, funds, education and other assistance. Kiefer has also helped find homes for orphans in Sudan during the famine, organized seminars for nurses and nursing assistants, and set up training programs for the mothers.
In addition to her nursing career and charitable work in Sudan, Kiefer worked as an agricultural marketing specialist for the U.S. Department of Agriculture in foreign agricultural service, spending 20 years involved in foreign humanitarian and development programs. She developed, designed, administered and evaluated food donation programs for developing countries.
Currently, much of Kiefer's focus is on Credo International, a nonprofit charitable organization dedicated to helping orphans and abandoned children in Africa and Brazil, which she co-founded with William O'Reilly, CPA, in 1989.
"We promote peace among people of all religions by providing humanitarian assistance to the poorest children of this world. We raise funds to provide health, nutrition, education and agricultural programs to improve the lives of children in third world countries," said Kiefer.
Kiefer was drawn to study nursing because of her sister, Sarah, who was a nurse. She was also influenced by her mother, who wanted her daughters to go into nursing or education. She greatly enjoyed her time as a nurse and found it very rewarding.
"It's challenging but so soul-enriching to help people as a nurse. It's the gift the Lord gives to those who go into nursing. It's a vocation of sorts. I continue to use my nursing knowledge and stay up-to-date on public health trends," said Kiefer.
Kiefer feels that her education at Saint Xavier laid the groundwork for her future career. She found herself often inspired and is grateful to have become close friends with several SXU women she still keeps in touch with today.
"I truly valued and loved my time at Saint Xavier. My friends and I lived in the dorms, first on the bottom two floors of one wing of the building where the nuns lived, and then we moved to Regina Hall as upperclassmen. We enjoyed Marion Lake, particularly in the springtime. My classes were interesting, the library was wonderful and my professors were so knowledgeable. I also loved being part of a volunteer program that worked to teach English to children living in underserved areas of Chicago," said Kiefer.
Kiefer has shaped her whole life around service, so the SXU mission and core values are very dear to her.
"I continue to practice those values and I always have, both in work and my personal life. They've really been a guide in my life. I encourage everyone to stay with them," said Kiefer.
Kiefer is proud of the goals she's accomplished and looks forward to continue helping as many children as she can through Credo International.
---