SXU Nursing Student Awarded Albert Schweitzer Fellowship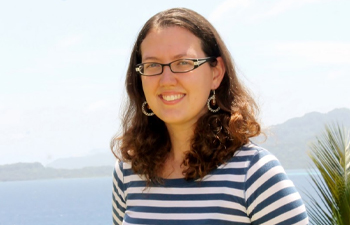 Saint Xavier University (SXU) nursing student Meghan Murphy has been awarded the Albert Schweitzer Fellowship. Founded in 1940, the fellowship immerses a diverse group of graduate students in a leadership development program designed to increase their skills to more effectively address the health needs of underserved people. Schweitzer fellows design, implement, evaluate and plan for the sustainability of community-based prevention and intervention projects that address the social determinants of health.
"I am honored to be a Schweitzer Fellow this year. We are tasked with creating and running a project, dedicating at least 200 hours to our chosen communities. I will be working with English- and Spanish-speaking community members in Albany Park. I've partnered with a federally qualified health center called Heartland Health Centers and will be offering individual and group health promotion sessions that address a myriad of health-related topics such as diabetes, hypertension, insurance, pharmacy communications, medication management and more," said Murphy.
Murphy is currently pursuing her MSN at Saint Xavier and is studying to be a nurse educator. She anticipates graduating in May 2023. As an undergrad, she studied sociology and became a teacher, working internationally in Spain and then in the Federated States of Micronesia. While abroad, she realized that health education was in high demand. She returned to the U.S. to pursue her BSN and started learning more about community health and public health.
"A healthy person leads to a healthy community leads to a healthy society. My love of teaching blends well with my love of nursing. My passion lives in primary interventions and preventative care. The overlap of sociology and nursing is illustrated well in issues of social determinants of health, an essential component of health equity," said Murphy.
Murphy feels that the courses she's taking at SXU are helping her to recognize the bigger picture in which health education resides. She currently works as a nurse as she pursues her degree, and she is grateful for the classes she's taking, which have made her a more knowledgeable, engaged nurse.
"I just finished a course on culture, communication and conflict resolution in interprofessional practice with Dr. Jessica Leiberg and many of the topics covered in the course directly influenced my behavior at my current job. I was able to reflect on my conflict management styles and learn better tools for dealing with difficult people and facilitating interdisciplinary communication. I am now starting my clinical practicum course and already learning more about occupational health nursing as a clinical specialty, which before I had never considered. Lots of new information to explore!" said Murphy.
Murphy finds that the SXU core values resonate with her daily, especially service and learning for life. She believes that focusing on service pushes her to do for others and focusing on learning for life pushes her to better herself.
"I appreciate these action-based core values because they give me a guide for my life. Compassion and respect guide my behavior when I interact with others in my work and my life, but service and learning for life guide my actions and the direction of my life journey. My hope is to be of use in this world," said Murphy.
Murphy, who also received her BSN from SXU, started her journey at Saint Xavier because of Terry Miller, nursing professor. Miller helped Murphy to realize that the nursing program at SXU was the right one for her. She appreciated the smaller class sizes and the opportunities, including earning several nursing electives in Italy and Ireland.
"SXU also has many great connections within Chicago and is a respected institute, so I was able to learn at UChicago, Northwestern Medicine, Advocate Christ Medical Center, and more. I've also had opportunities to do more than just academic work. I was a graduate assistant for professors Tina Dorau, Kailey Kehoe and Barbara Gawron in the nursing simulation lab for several semesters and I served as a graduate assistant for professor Katie Soso in the Academic Success Coaching program, working as a tutor for nursing students. My favorite experiences are those that happen outside of the classroom, applying what I have learned," said Murphy.
After Murphy finishes her MSN and completes her hours for the Schweitzer program, she is interested in working within the public health field. She'd also like to work at a nursing college so she can empower future nurse leaders. Further into the future, she may consider earning a doctorate.
"I am so grateful for all the opportunities I have received from SXU. I have met amazing people on campus, from faculty to peers. The people are really what make SXU such a great school. I feel fortunate I was able to get such a good foundation of nursing principles during my undergraduate career that I can build off of for my graduate career and within my nursing career. Thank you, SXU!" said Murphy.
---