SXU Nursing Student Earns Outstanding Project Award at Research Expo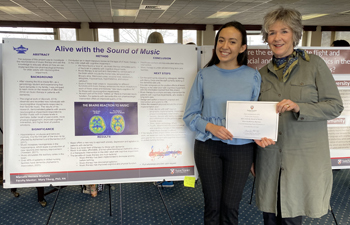 Recent Saint Xavier University (SXU) graduate Marcella Herrera Mariona '22 has received an Outstanding Project award at the annual Research Expo for her project, "Alive with the Sound of Music."
A nursing major with minors in Spanish and gerontology, Herrera Mariona was initially drawn to nursing because she wanted to help care for people during difficult times in their lives.
She began conducting her research after learning about dementia and Alzheimer's disease and their prevalence in the older population during one of her gerontology classes. The 2014 film "Alive Inside," which explores the transformational effects of music on elders with Alzheimer's and dementia, inspired Herrera Mariona to continue the research and consider ways to carry it into health care practices.
She was thrilled to receive an award acknowledging her work.
"To receive an award for my research with Dr. [Mary] Tiberg is truly an honor. I was very happy to see how well-received the topic was as I discussed it with many of the observers at the Research Expo, and I am proud of all the hard work Dr. Tiberg and I did," said Herrera Mariona.
Herrera Mariona is pleased to have undertaken such an extensive research project and feels the skills she learned will aid her future endeavors. She finds that the high-impact learning experience of the project as well as her classes at SXU have prepared her well for entering the nursing field, as they coincide with what she sees and practices in the clinical setting.
"I learned the framework for clinical practice in the classroom, which gave me a baseline as I enter the nursing profession. I've always appreciated that my professors allowed me to ask questions and make mistakes so I can learn and grow from each experience," said Herrera Mariona.
While at SXU, Herrera Mariona was a Schmitt Scholar and a member of both the Student Nurses Association (SNA) and Service Club. She was also an X-Factor student leader and has served as peer minister, orientation leader, and resident assistant. She served as a 2022 commencement speaker and reminded graduates of the importance of the SXU Mercy mission. She carries with her many fond memories from her time at SXU, including the Homecoming bonfire, Taste of SXU, and Spring Formal.
"I loved my time at SXU and have enjoyed the people there more than anything. I am really thankful for everyone I have met and how they have impacted my life. Through my participation in student leadership and Campus Ministry, I have made many lifelong friends and hold them all close to my heart," said Herrera Mariona.
Herrera Mariona is an aspiring pediatric nurse with the ultimate goal of becoming a missionary nurse to serve those in need.
---